Life At Vega IT
Not Just Another Conference in Copenhagen
Maja Bozic
Categories: Life At Vega IT
Date 08-Jul-2019
4 minutes to read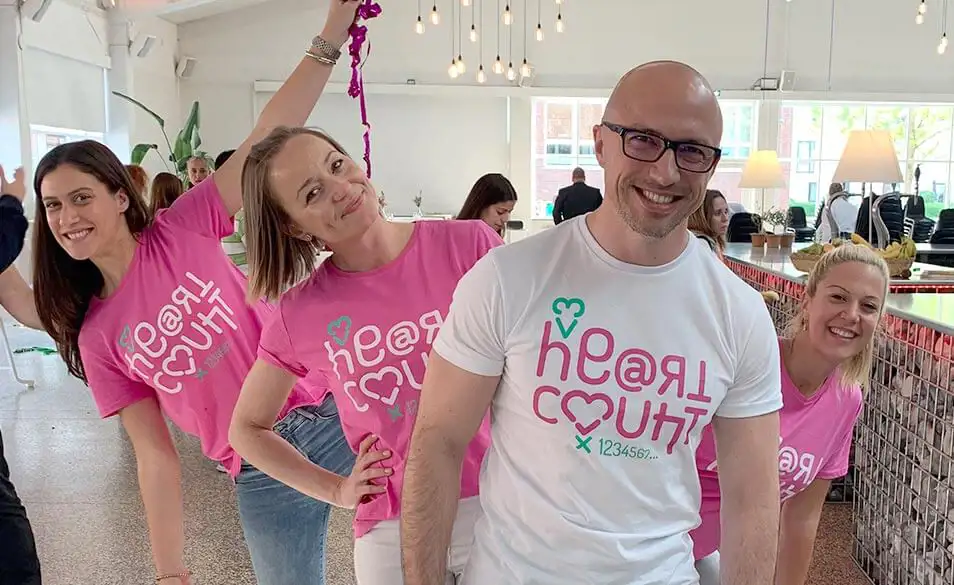 A few weeks ago, I was at one amazing event - International Conference on Happiness at Work. It sounds like a regular conference but it was much more than that.

Having fun during the break at International Conference on Happiness at Work.
This was their 10th annual conference (I have been following them for years now). Since this was my second time at this event I can say that it is surely becoming better and better every year.
What I Liked the Most about This Event
The organisers handpicked 15 of the most passionate, knowledgeable and inspiring international speakers who shared their most important findings.
I enjoyed in-depth interactive workshops and gained valuable insights into the latest research on happiness at work and the specific tools we can apply right away etc.
The best part of the conference was the people and a chance to meet with other engaged participants from all over the world. I have never been to a conference where everyone stayed until the last speaker was done, so cool. They thought of a great way to encourage us to meet other people during every break (you need to meet at least 3 new people during every break). Also, after the conference, we attended Friday Bar, an amazing opportunity to meet other participants as well.
What Was Really Cool at This Conference
Mike Kembel was the moderator of the event. He is absolutely the best possible moderator for any conference on happiness at work. Mikael is a news anchor on the TV2 evening news in Denmark and the author of the book "We're at our best when we're happy."
Every speaker got a standing ovation before and after his/her talk.
There was always a break between lectures when the participants needed to energize and one of the ways to do that was to start dancing.
The weather was always sunny during the Conference. The food was really great, and yes, there was a cake. :)
What I Have Learned at The Conference
As I mentioned above all the speakers and topics were great. But, I would like to share with you a few lectures that had the biggest impact on me.
Rich Sheridan: How to Create a Workplace Full of Joy
Rich and James Goebel started Menlo Innovations in 2001. In his speech, he shared how they created a workplace where people thrive and grow and do great work for their clients by doing things like:
Having no managers
Eliminating internal email
Avoiding overwork
Letting employees determine each others' salaries
Bringing dogs and babies to work
Alexander Kjerulf: The Power of Positive Feedback at Work
Maja Bozic, Alexander Kjerulf, Sasa Popovic
In this talk, Alexander covered the essentials of giving praise at work, including:
The science that shows why giving positive feedback is the single most powerful thing you can do to create a happier workplace
What, who and how to praise
How NOT to give positive feedback
Simple, fast and cheap ways to praise employees
Why rewards and bonuses don't work and what to do instead
The main barriers that hinder positive feedback and how to overcome them
Alexander Kjerulf and Maja Neducic: How to Measure Happiness At Work (and How NOT to Measure It)
Yes, Maja Neducic is my colleague and I was so proud of her while listening to what she was saying. She and Alexander explained that most companies conduct regular job satisfaction surveys, but they often don't work very well. They showed us:
Why traditional job satisfaction surveys fail
Why you should measure happiness at work
Better, specific more frequent, more relevant and more valuable ways to measure happiness at work
Specific experience of the company that tried a new tool, etc.
As I said, for me, this was not just a regular trip to the conference - it was a full experience of happiness. :-)
For other amazing materials on this topic, check out all the videos here.
Don't forget to subscribe to this channel and never miss a new cool video again. :)