Life At Vega IT
Mentoring at Work: How Mentors at Work Can Improve Your Organisation
Tijana Popov
Categories: Internal, workers, worker success
Date 26-May-2020
5 minutes to read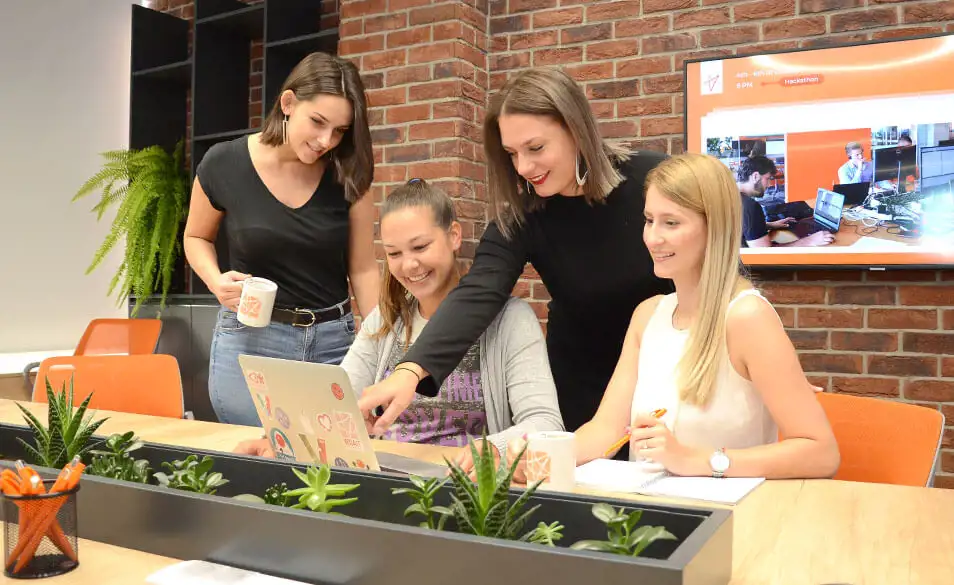 To be successful in today's business environment, both small and large companies must learn how to evolve effectively. Now, more than ever, it is essential to understand your employees' needs and motivations if you want to lower your employee turnover rate while improving the overall performance of your team.
The purpose of mentoring is to share the experience and the existing knowledge of high performing team members with less experienced colleagues which allows them to faster advance in their career. Mentoring can not only mould your new employees' skills and teach them more about your company culture but, more importantly, it can also instil employee loyalty to the company.

Aleksandra, Olga, Nevena and Kristina at work.
Did you know that 70% of Fortune 500 companies offer mentoring programs at work?

Many small organisations try to rationalise their decision that it's enough to have an informal mentoring program. We believe that official mentors can improve any organisation, no matter how big (or small) your organisation is.
What Is the Key Difference Between Coaching and Mentoring
How coach and mentor roles differ? Is there a big difference between them, after all? Before we explain the roles, have a look at the key point summary and what coaching and mentoring can bring to the table in your organisation.

Comparing Mentorship and Coaching
The Role of Mentors
Mentors offer their expertise, share knowledge and advice to those with less experience. They have a holistic approach to learning, as their goal is to guide mentees in the right direction.
In the eyes of mentees, mentors have a more positive influence since they have already walked the walk, which makes them emphatic and more relatable figures. The relationship between mentors and mentees is on-the-need basis and continuously evolving, thus building trust and confidence. Here, mentees are the ones who ask the questions and seek advice.
The Role of Coaches
The main difference between coaches and mentors is that the coach will focus only on personal development goals like developing specific skills and completing concrete tasks in a certain period.
The relationship between coach and employee is performance-driven and strictly professional, while the coach usually asks questions.
Types of Mentorship at Work
When it comes to mentorship at work, there is no one-size-fits-all solution. Here are the three most common types of mentors:
Traditional mentors usually have senior roles in organisations. They have more experience than others in a specific area. The conventional mentoring consists of regular one-on-one meetings. The focus can be on personal and career development, as well as work-life balance.
Reverse mentors are less senior employees. They still need to have more experience in the specific area than mentees (the more senior person). This can include knowledge in specific technologies, frameworks, methodologies.
Peer mentors are colleagues who have similar roles and responsibilities within the company. Often peers team up to share the experience, knowledge and support each other on their career path.
Key Benefits of Mentoring in the Workplace
If mentoring in your organisation has a purpose, it can bring much value to your organisation. These are just some of the benefits you can reap from an official mentoring program:
Professional development and learning
When you pair mentees with mentors who understand and guide their progress, your organisation will be a safe place for everyone to continually learn and develop their skills. Your colleagues will be comfortable with taking risks, suggesting new ideas and making mistakes.
Better onboarding process
In the first few months, mentors can help new team members to get settled in, learn more about company culture and define what's expected of them. These types of advice can promote developing of good professional habits.
Improved communication skills
When it comes to communication skills, both sides can benefit from the mentorship program. While it allows mentors to develop strategic communication skills, it lets mentees sharpen their soft skills at the beginning of their career.

Ivan and Marko discussing project requirements.
Reduces stress
Mentors are not only crucial for sharing information and knowledge, but they can also be mediators if a mentee has some issues at work. Stress at work can happen when new employees don't understand the job and don't know who to ask for help.
If a mentee's direct team has never encountered a particular issue, they can always ask mentors for guidance. Mentors should be there to offer their advice to younger colleagues.
Reduces your employee turnover rate
Mentorship programs are one of the essential tools for reducing your employee turnover rate. Mentors can encourage mentees to grow with the company for an extended period of time. With a lower turnover rate, your organisation will have more loyal employees and avoid investing resources in hiring and training new team members.
Tips on Mentoring Programs in the Workplace
How to start a mentorship program in your organisation? First of all, remember that mentorship relationships are fluid, dynamical and personal. You will need to listen to your team and discover what they are searching for in this program.
Before you start working on a mentoring program in your organisation, remember to:
Keep it simple
Create a transparent mentoring process
Provide mentorship training for the mentors
Match the right mentor with the mentee
Support both sides in managing their relationships
Reward your mentors
Takeaway
We hope that you realise that mentorship is a win-win situation for everyone who participates in the program. It is not a "nice to have" plan. Instead, it is a "must-have" plan for any organisation that strives towards building a loyal and competent team.
If you would like to learn more about the good practices at Vega IT, we invite you to check out a fraction of our culture book.