Life At Vega IT
International Day of Women and Girls in Science: Celebrating Women in Science
Tijana Popov
Categories: Life At Vega IT
Date 11-Feb-2019
6 minutes to read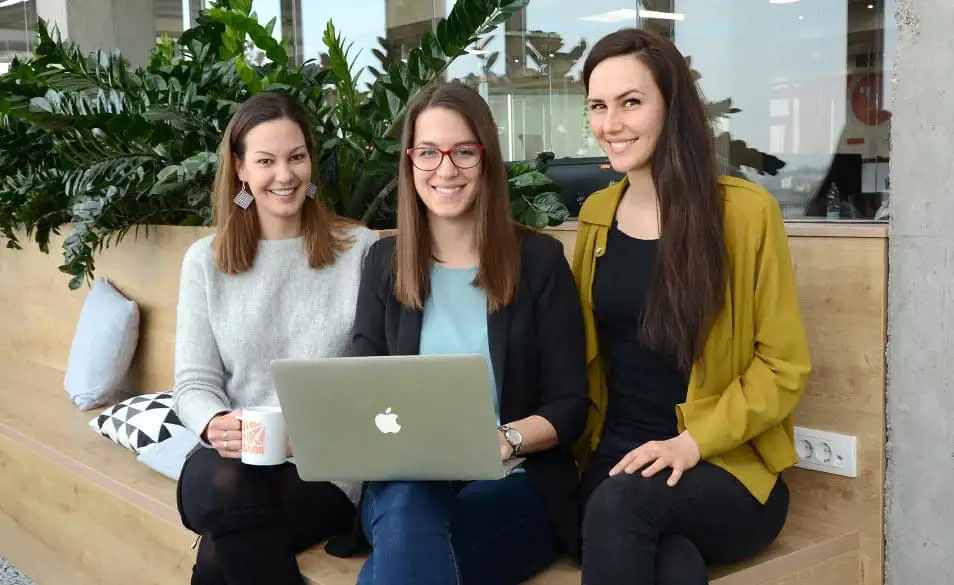 We are happy to congratulate International Day of Women and Girls in Science to all of our colleagues and ladies worldwide. Vega IT is proud to have more than 60 lovely female colleagues. We have asked three of them to share their stories about how it looks like to be a girl in the computer science world.

Our colleagues Olga, Ana and Stoja
When did you fall in love with programming?
Olga, Stoja and Ana don't have the same job titles. However, that's not the only difference between their stories. All of them have a different educational background. While Olga has a developer's background, Stoja used to spend more time in a lab than in front of a computer. On the other hand, besides being able to write in Russian, Ana decided to learn how to write in a programming language, too. Let's take a look at how they came up with an idea to enter the IT world.  

Olga NIšević, Project Manager
"When I started my career as a software developer I met the "boy's world" - the world full of rules. Everything was either 0 or 1 - simple as that. My goal was to manage processes and make them more people-oriented. I can't say I encountered any obstacles along the way because I was always a team player with a great team spirit and cooperation skills. The only obstacle I had to face was my fear, the fear of receiving negative feedback, although, most of the time I get really positive feedback."
Stoja Obradović, Software Developer: "I can't say I made that decision at any specific moment. I started analysing some software I wanted to use for my research and realised that understanding the basic programming concepts would make a great difference and broaden the field I worked in. As I learned more, my interests grew. Programming was fun and challenging. My goals changed, I no longer wanted just to scratch a surface of another useful tool, I wanted to build the tools instead. Of course, at first I didn't believe I could find a career in IT, but optimism eventually prevailed."
Ana Bjelica, Front-end Developer: "I have always been in love with linguistics and had a passion for understanding how a certain language functions, which is why I learned and researched different Indo-European and non-Indo-European languages. While working as a Russian language teacher, at one point I got curious about how artificial languages, namely programming languages, work. I wanted to know more about their syntax, morphology and semantics, and to understand how similar they are to natural languages. Quite soon I fell in love with programming and decided that's what I want to do. So, my shift to programming was gradual."
What female scientists inspire you?
During the interviews, all of us agreed that there are so many female role models from the world of science. What's more, Ana, Stoja and Olga share the same opinion that, regardless of scientific discipline, there are so many outstanding deeds different scientists, engineers, innovators and specialists have done. Take a look at what ladies are admired by our colleagues and why they knock down all gender stigmas and stereotypes:
Olga: "Definitely I will say Ada Lovelace. I remember the class Computer science basics in elementary school when I learnt about the world's first computer programmer. I fell in love with the algorithms and I was impressed by how Ada took the lead and opportunity in a world that denied most of the women back then."

Stoja Obradovic, Software Developer
"There are countless examples of extraordinary women in science and I can't single out one of them. Of course, in this field, Grace Hopper would be the most obvious choice. I am fascinated by the fact that she even won the very first Computer Science Man of the Year Award. Marie Curie was a rock star, and so were Dorothy Hodgkin and Lise Meitner. Recently I've read about Chien-Shiung Wu. She was an inspiring physicist who fits perfectly in the criteria we just described. I also admire Jane Goodall for noble causes she is fighting for."

Ana: "The first name that comes to my mind is Sofia Kovalevskaya. She was a Russian mathematician, the first woman to obtain a doctorate in mathematics, the first woman appointed to a full professorship in Northern Europe and one of the first women to work for a scientific journal as an editor. Despite all setbacks, she managed to thrive in the "man's world" of the 19th century. If that doesn't represent "knocking down gender stereotypes", I don't know what does."
Which books would you recommend?
"Read, read and always read" is one of the best recipes to enrich our knowledge. Therefore, we asked our colleagues which books have helped them broaden their IT skills.
Olga: "These days I have been focusing on different Agile methodologies. But, for someone entering the world of IT and for students and beginners I would definitely suggest starting with "Head First Object-Oriented Analysis and Design"."
Stoja: "A lot of books come to my mind, but at the moment I think the most useful book for someone who is at the beginning of their journey (regardless of the technology they are working with) would be "Clean Code" and "The Clean Coder" from Robert C. Martin. As someone who came into the industry from a different field, I consider these books to be valuable guides."
Ana: "I recommend the book to everyone who wants to learn how to create high-performance websites: "High-Performance Web Sites: Essential Knowledge for Front-End Engineers" by Steve Souders."
What advice would you have given yourself 10 years ago?
After going through the exciting backgrounds of our colleagues, they all agreed that everything looks way easier from this perspective than it was in the beginning. Mindfulness, calmness and self-confidence are the key traits that helped these girls cope with the problems they encountered at the beginning of their careers. However, these weren't real troubles, these were only challenges. Here is what they would now say to the younger versions of themselves:
Olga: "Don't be nervous and stressed. If you work hard, you'll make it."
Stoja: "Don't overthink everything and give yourself a chance. Give it a go."

Ana Bjelica, Front-end Developer
"I'd advise myself to be bolder, take more risks and tackle new challenges even if they seem too hard or scary at first; to have the courage to walk towards the fear, not away from it. I'd also advice myself to worry less, stop and breathe more often, savour the moment and be truly present."
How would you encourage other girls to become a part of the IT world?
Olga: "Be brave! As soon as you try it you'll love it! It is an exciting world filled with smart people who are eager to learn and help each other. What I personally like about my job as a developer is that each task that we are working on is made in order to improve the quality of life or reduce inequality. Development is pure art - we get a blank screen where we can make whatever our inventive mind can think of. So, apart from being brave, use your imagination!"
Stoja: "Be enthusiastic, work hard and be persistent. This industry is healthy, people are inspiring and the job itself is very rewarding for those who put their hearts into it. Striving for knowledge is the best (if not the only) way to gain independence and equality. If we are talking about programming skills, they can be utilised in numerous other fields and advance someone's professional growth in many ways. Simply put, there is no downside to making that kind of a decision."
Ana: "The main thing I would do is show them how much prejudice there is about women in IT. There's this stereotypical image of a computer scientist in modern culture - an image of a nerdy man with glasses, slouched over a computer, writing code the whole day. This prejudice may prevent girls from seriously considering a career in computer science. It is believed that girls feel like they don't belong in such an environment. And the less they feel that they fit the stereotype, the less interested they are in studying computer science.
Therefore, I'd show them what the IT industry really looks like today, and let them see that they can become successful if they try it and become part of it."
So, if you are a girl or a boy curious about how it looks like to work in an IT company, Vega IT's doors are wide open for you. Feel free to book a tour of our company, come and meet us, have fun and slide into the IT world.
We're waiting for you!