Life At Vega IT
Having fun at Kopaonik
Maja Bozic
Categories: Internal, workers, worker success
Date 22-Feb-2016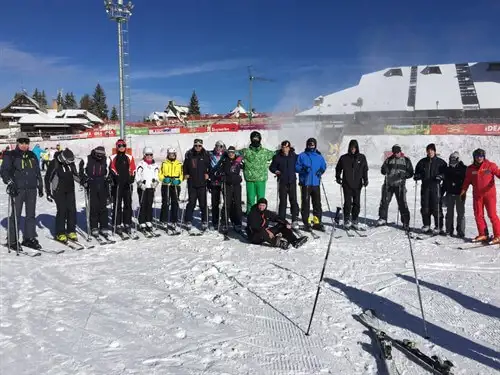 It's been a year since we went to Kopaonik last time and yet it feels like we were at the mountain just the other week skiing, playing cards and having fun.
The focus of this was to engage in activities that will help in building and bonding of our team but also in establishing our culture values even more:
- Fulfillment (about the people and the job),
- Responsibility (dealing with challenges),
- Trust (we get to know each other even better),
- Teamwork (we did all kinds of activities together, from skiing to association game),
- Quality (of our relationships).
Let me share with you a story about the past few days we spent there.
Our trip started on Wednesday, February 17th, after work.
Around 37 people applied to go for skiing to Kopaonik. 10 cars and a few hours of driving and we reached the mountain. The chosen hotel was a great fit for us. It had a great hall with a fireplace where we spent most of the nights, playing cards and association game, drinking, talking and having fun. The food was excellent.
During the daytime, we split up into 4 groups. The first group consisted of beginner skiers. We provided them with an instructor, so they spent 3 hours every day, learning how to ski. The second and the third group consisted of intermediate skiers and they also got instructors for 3 hours every day. The last but not the least - an advanced group of skiers and snowboarders whose job was to try out all the skiing slopes and to race in order to choose who's the best one. It was really amazing that so many of our colleagues have a passion for this kind of activity.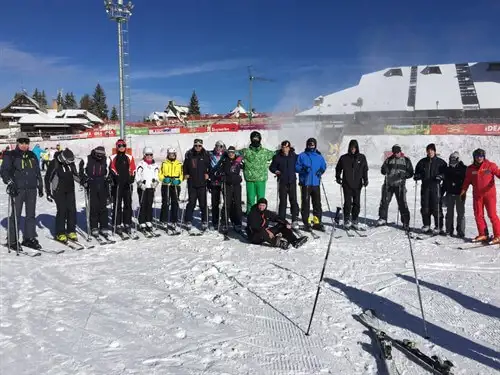 We passed hundreds of kilometers within four days. All the beginner skiers passed with an A+ and intermediate ones improved their skills and techniques. The advanced ones tried all the open slopes and had a great time racing.
We are all looking forward to next year's skiing.
Enjoy browsing our pictures at Social Network sites Facebook , Twitter , and Google+.