Life At Vega IT
Happiness at Work Week 2019: How to Make Your Colleagues Feel Happy at Work
Author: Tijana Popov
Categories: Internal, workers, worker success
Date 27-Sep-2019
3 minutes to read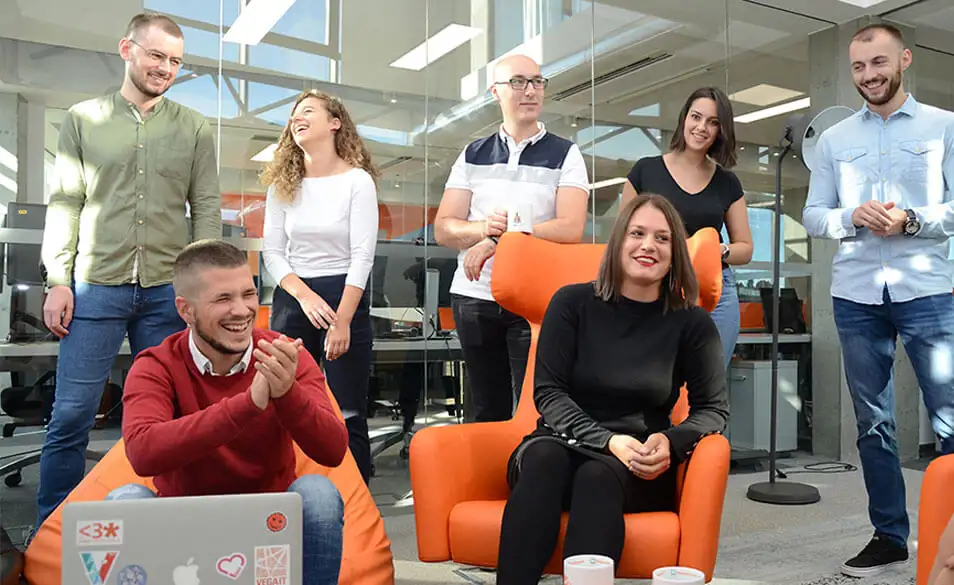 Everyone strives for happiness. But, we all have a personal definition of it and different techniques and ways of finding it.
We no longer aspire to achieve happiness in our personal life but in our working environment as well. Because, when we feel happy at work, we are more likely to feel happy in other aspects of our life.
So, what should you focus on in order to accomplish your goal?
What is Happiness at Work?
A decade ago, happiness was not a top priority in many corporate cultures. Why is this so? It is a no-brainer that business owners were working towards creating sustainable companies. But, were they right to focus solely on profits and make their employees feel unappreciated?
After several colleges and universities introduced studies on the importance of happiness in their curriculums, business owners realised that happiness at work has a direct impact on employee productivity and lower turnover rate.
The benefits of implementing happiness at work strategy:
Happier employees will be more committed and willing to contribute to the company's success

Staying happy at work has a positive impact on employees' health, creativity, productivity and faster career advancement

Employees who feel happy are more likely to establish strong social relationships with colleagues and support their team when overcoming challenges

A company that promotes happiness will notice lower turnover rates, lower hiring costs and fewer mistakes 
Why You Should Celebrate International Happiness at Work Week
We spend one-third of our day at work, and many of us believe that that's too long not to feel happy. ;-)
In order to highlight the importance of the way people feel at work, the idea for International Happiness at Work Week was conceived! This week started on Monday, the 23rd of September and it finishes today, the 27th of September.
This is your company's chance to feel the pulse of your employees and do something meaningful for them. Of course, you are encouraged to have fun!
Our activities this week include:
Happiness at work workshop for colleagues

Ice cream surprise during lunch hours

Analysing company's happiness statistics - we use an AI-powered

tool that measures happiness at work. 

Pancake day 

Streaming a video that our colleagues Maja Neducic and Sasa Popovic recorded for Online Happiness at Work Summit
As you can see, your activities during this week do not have to be complex, expensive or "over the top". The only important thing is to let your colleagues know you care about them. :-)
Where to Go from Here?
People rarely expect their jobs to make them feel happy. To be honest, happiness at work doesn't just depend on the employer, it is something both sides need to work on.
So, listen to the people in your organisation and learn more about what makes them happy.
What have you done for your colleagues this week?