Life At Vega IT
From an Outsourcing Agency to a Business-Minded Engineering Company
Sasa Popovic
Categories: Life At Vega IT
Date 02-Aug-2022
3 minutes to read
We recently celebrated Vega IT's 15th anniversary. I was about to list all the achievements we have made in the past 12 months when I realized there's something that deserved to be mentioned more than anything else.
It's not an accomplishment of the past 12 months. It's an evolution of our business that required years of learning, experimentation and investment: years of determination, dedication and discipline that my colleagues invested in our growth for the last 15 years.
The Company's Evolution
I'm happy to be able to say that Vega IT went through a long journey, from being a provider of great software engineers to becoming a full-service software engineering company.
We still employ hundreds of experienced engineers but, in addition to that, we now also employ a number of:
Product owners/managers
Scrum masters
Business analysts
QA engineers
DevOps engineers
Data scientists
Embedded software engineers, etc.
This allows us to be true partners to our clients - especially nowadays, when technology is no longer an enabler but a strategic asset and a competitive advantage for many companies throughout the world and across industries. As a consequence, CIOs demand more from IT providers in terms of innovation, delivering business outcomes and bringing the right talent.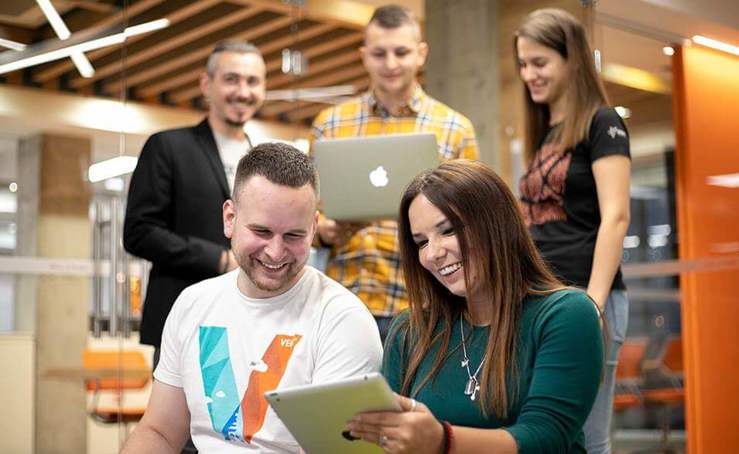 I must say I feel proud when I see how my colleagues work hand in hand with our clients. It feels great to see how much domain knowledge our engineers have gathered throughout the years, how engaged our product owners are and how much they care about the products they build for our clients. I am proud to see that our business analysts have developed excellent analytical and critical thinking skills, positively surprised by our QAs attitude and attention to detail and fascinated by the knowledge and experience of my colleagues DevOps engineers and how much value they all bring to our clients' businesses when building their software products. I'm especially happy to see how the two most recently formed teams of data scientists and embedded software engineers are already doing a great job and bringing smiles to the faces of our clients.
And it feels great when I see that this evolution of Vega IT and the growth we have had in the past few years haven't ruined our company culture. We are still a learning organization, my colleagues support each other every step of the way, they are proactive and take ownership in the projects. Last but not least, most of the time they feel good about being part of Vega IT and enjoy the work they do.
What Does the Future Hold?
I believe the future of the tech industry lies in the synergy between product-based companies and companies that provide engineering services, talent and innovative solutions.
I believe Vega IT is on the right track to support product companies in years to come and I'm looking forward to seeing what great products we'll be building together with our partners.