Life At Vega IT
Craft Conference 2019 Recap
Tijana Popov
Categories: Life At Vega IT
Date 22-May-2019
8 minutes to read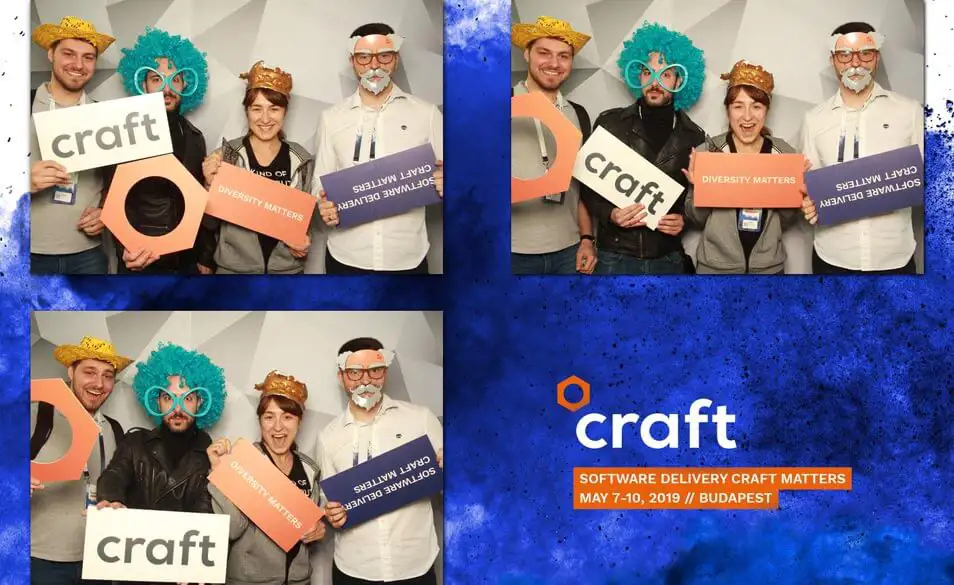 This month, seven of our knowledge-seeking colleagues headed off to Budapest to attend Craft Conference, one of the best conferences for software developers in the region. While for some of them, this was the first time at this conference, the others were quite familiar with the event and knew what to expect from this two-day visit.
We have talked to some of the colleagues and asked them to share their impressions of this cutting-edge Conference with us. This is what they said:

Nenad, Nikola, Ivana and Boban at the Craft Conference 2019
Ivana Tesanovic, Software Developer
"Since this wasn't my first time attending Craft Conference, I thought I could at least assume what we could expect from it. But I was wrong. Except for Dan North, this years' Conference was a whole different story. A lot of new talks, new goodies, stickers and gifts (which is why I regret not participating in any of the games).
The talks that made the biggest impact on me were "Unlearning - The Challenge of Change" by Jessie Shternshus and "State of the Art User Interfaces with State Machines" by David Khourshid. Listening to Jessie, I realized how much unlearning I had to go through to be the person I am today and how it can help you change your beliefs and open your mind a little bit more. We all interacted with each other by playing a couple of games and even got a chance to find out what were the things other people had to unlearn.
The other talk, given by David, was more technical. It was about implementing state machines in the JavaScript code. I found it quite interesting since I have been working with JavaScript for a while now, and it made me think about integrating it in my code as well.
In general, I enjoyed attending this year's Craft Conference, meeting new people, learning (or unlearning) new stuff and having fun with my colleagues."
Nikola Zivkovic, Software Developer
"I've been attending Craft Conference for several years now, and it has become one of my favourite conferences in the region. Just like every year, speakers at this year's conference shared great ideas and practices while covering processes, technologies and the trends that every software crafter should know about. The Hungarian Railway History Park is a wonderful location for this kind of event.
The first day of the conference was packed with big names like Martin Flower, Dan North and Bjarne Stroustrup. It was a privilege to listen to these great minds and soak up the knowledge they shared.
However, no matter how impressive the first day of the conference was, I was blown away with the second day and some less known names. Talks by Dave Snowden, Holly Cummings and David Neal were awesome, inspiring and insightful. Ashi Krishnan's talk, Learning from machines, left the biggest impression on me. She presented some of the strangest uses of the machine learning algorithms and techniques while making a parallel with biological processes in our body. All this was followed by the weirdest and the most beautiful presentation I saw in my life and Ashi's hypnotic voice. The whole experience left me speechless. I can't wait to see what Craft Conference will prepare for us next year."
Nenad Percic, Software Developer
"In a constantly growing industry, where new things are introduced every day, learning stands out as one of the key skills. Craft conference is a place that offers the amazing opportunity to learn so much in just two days. One new thing I acquired was the concept presented in the talk "State of the Art User Interfaces with State Machines" by David Khourshid. This talk sparked an idea about how to describe our application through events, actions, state and effects.
Other talks also planted a seed in my mind and gave me ideas I can apply in my everyday work. For example, the talk "Cultivating Architecture" helped me evaluate agile setup and processes we have in place in our team by comparing them to the good examples presented by one of the most influential people from the industry Martin Fowler. Also, Jessie Shternshus shared with us a resonating concept of constant learning and unlearning, and David Neal shared an awesome suggestion on how to become a better leader with a positive influence on people around us in everyday occasions.
The diversity of topics covered at the Conference proved why Craft Conference is one of the best events a developer can attend in their career."

Boban Miksin with Dan North
Boban Miksin, CTO
"I've learned that people will forget what you said, people will forget what you did, but people will never forget how you made them feel." - Maya Angelou
This was one of the most frequently cited quotes at the conference.
As the years pass and IT industry matures, people's awareness of IT and their happiness at work is becoming a very important subject. In his talk Deliberate Advice from an Accidental Career, Dan North shared a personal story on how he became successful at what he does. His story begins from the moment when he messed up a production database to the present moment - he now consults one of the biggest companies in the world.
The funny part was the story about how he joined ThoughtWorks without knowing who he would be working with. Dan said that 99% of coaching is empathy. Also, he explained that any code that is not running should be seen as a cost, and that code reviews and pair programming should be regularly exercised for the benefit of improving skills and software quality.
We could hear similar points from David Neal in his talk Leadership Guide for the Reluctant Leader. In a very inspirational and funny way, David was able to send a powerful message explaining why quitting is not always the best option. From both talks, we learned that their professional paths were not impacted by books, technology or the country where they were raised, but by the people that surrounded them. Both of the speakers pointed out that we have the power to do the same to the people that are around us."

Milica, Sinisa, Zorana and Miroljub at the Craft Conference
Zorana Deuric, Software Developer
"Craft Conference was interesting and definitely worth the visit. Various topics were presented. At one place, we had the privilege to listen to the lecturers such as Martin Fowler, Dan North, Bjarne Strousrup, which is really remarkable.
We could listen to the lecturers about good and bad practices in the world of software architecture. From this group of lectures, I will have to single out the lecture given by Stefan Tikov, "Why software architects fail - and what to do about it". In this lecture, Stefan singled out 10 bad habits which he considers to be the biggest causes of the problems, or as he explained: "10 Diseases You Should Know About." I will list some of them:
Over-generalization - an attempt to find a generic solution to any problem, no matter how specific it is
Domain-allergy - frequent neglect of the domain itself
Obsessive Specialization Disorder - an idea about uniqueness of our problem and its solution, even though the same problem has already been solved a hundred times
Unhealthy Complexity Attraction - 'being so smart you can't bother with simple approaches'
Analysis Paralysis - the evaluation lasts longer than the implementation
And, so on:)
From this, as well as from other lectures in this field, we could learn how important it is for the architect to be involved in the process, to be a part of the team constantly and a part of the development process as well. In the picture, you can see Stefan's formula for becoming a successful architect."
Milica Kapetina, Software Developer
"This was my first time at the Craft Conference, and my first impressions were amazing. I realised that the Craft Conference is a great opportunity to meet so many enthusiastic people who share the same passion for programming as you do. From listening to many speakers about how they love what they are doing and how they enjoy transferring their knowledge to people in fun and interesting ways to talking to people from many big companies, and participating in many workshops - you really can't get bored at this conference.
The program is so diverse that everyone can find something for themselves. It doesn't matter what field of IT you work in. You can listen to a lot of current topics and new practices which can help you improve the way you work.
Even though there were many great speakers, one talk, in particular, left the biggest impact on me - Reliability Engineering by Mary Poppendieck. I was inspired and motivated by this woman's talk, especially when knowing how long she has worked in this industry and how updated she is when it comes to new technologies. Also, I was fascinated with her eagerness to learn and her positive attitude. Among other topics, she also talked about Chaos engineering and Site reliability engineering (SRE), where I learned that it is a creative and challenging job which requires a lot of technical knowledge.
Mary explained that SRE teams usually work on developing large-scale software in terms of improving their scalability, reliability, performance, security, availability, etc. They are also on call whenever an issue arises, putting out fires as fast as they can. Mary's talk was inspiring and captivating. It was also very realistic, particularly when she was explaining how stressful the job can be. I've realised that this job is definitely not for everyone, but for those people who find chaos to be fun and challenging."
Miroljub Enjakovic, Software Developer
"This year I had a chance to visit the conference for the second time and this time the Craft Conference left a much bigger impression on me than last time. One of the lectures, which in my point of view distinguished itself from other lectures was definitely Speeding Up Innovation by Adrian Cockcroft. One of my clients recommended this lecture to me, and I am really glad to have listened to his recommendation.
During the lecture, one of the topics almost directed me towards the solution to the problems I encounter on the project I am currently working on. That topic is "Decouple new code from new features", that is, "Feature Toggling".
The interesting thing is that one of the most frequent topics of the Conference was Chaos Engineering, which many speakers mentioned in their lectures, even if that was not the topic of their lecture.
The conference also had many exciting and educational lectures that covered general topics, such as the impact of Commodore 64 on women in IT.
I am looking forward to implementing newly learned things in the upcoming period as well as every next chance to adopt new ideas."
One way how we keep on top of the latest trends and new technologies in software development, besides internal knowledge-sharing events, is attending conferences and listening to inspiring leaders in the industry. We try to implement these practices in our organisation and share what we learned with our colleagues.
This is not the only conference where you can see our colleagues. We already have a busy schedule for this year. Is there a conference that you would recommend to us? Feel free to let us know.