Life At Vega IT
Cheers to Five and Ten Years of Loyalty
Tijana Popov
Categories: Internal, workers, worker success
Date 26-Jun-2019
4 minutes to read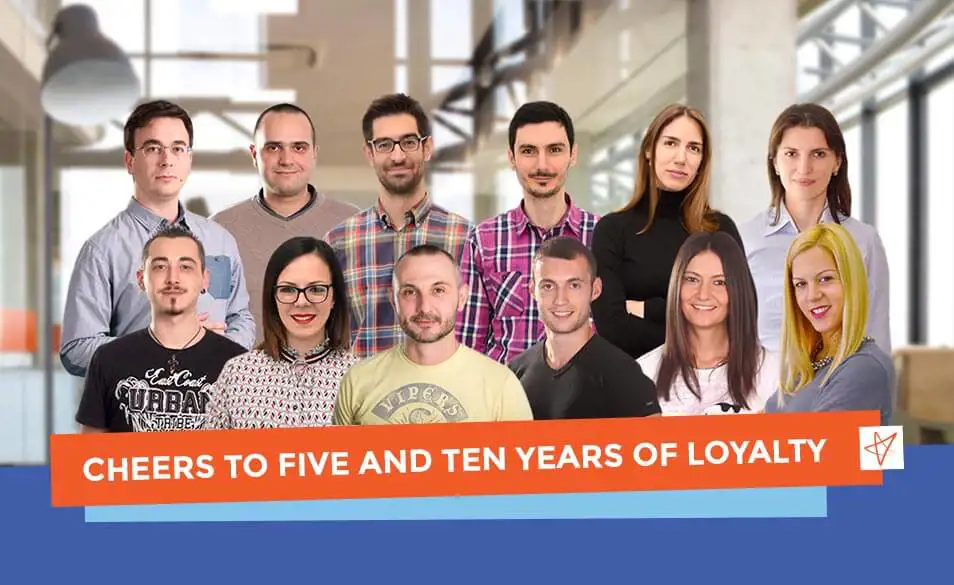 "You don't earn loyalty in a day. You earn loyalty day-by-day." – Jeffrey Gitomer
Once again, we are happy to reflect and celebrate the years we have spent with some of our colleagues. We are proud to praise our colleagues who worked with us for five years as well as those who have worked with us for a decade. Sounds amazing, doesn't it?
Who Celebrates Their Fifth Anniversary with Vega IT?
It's been five years since you walked to our office and have actively participated in forming our company culture ever since.
We would like to thank our colleagues Biljana Golijanin, Bojan Bosanac, Darko Opala, Dejan Boric, Ivana Masic, Maja Bozic, Milan Kosanovic, Ognjen Stanic, Srdjan Dejanovic and Zorica Pilipovic for your loyalty and commitment to the company. We hope that you and your special loved one will enjoy a luxury weekend away!
Here's what our colleague Biljana Golijanin said when she reflected on the past five years:
"When I say that I have been in the company for 5 years, I just can't believe my ears, because time flies and years go by so quickly. I remember stepping into these offices for the first time. I feel like it was yesterday, and, now, 5 years later, I still come to my job with the same enthusiasm as on the first day.
As the company grew, we grew together with it. When I joined the team, the company was small and it had around 40 employees. Five years later the company grew to around 190 employees, most of whom are young people. It's a true privilege and luck to work with young people who are real enthusiasts when it comes to their work. My colleagues from other industries and from my previous job often ask me what's it like to work in IT. I always give them the same answer: "I feel like I am on another planet, and not only in other company :) - it's incomparable!"
I would not switch roles with any of them and I would not go back ever again. Besides the incredible energy of young people I am surrounded by, it's vital and necessary to mention that the working conditions in our company are, to say the least, outstanding. We pay so much attention to details in order to make everyone satisfied, but not only that. We took another step with the aim to make each one of us happy at work. Led by our mission to make everyone happy, we created our own tool that measures happiness at work, would you believe it? We really work in a happy company. We try really hard to set examples, communicate and do whatever it is necessary to have a positive impact on other people and help them "find" their happiness even at work:), although some people believe this is impossible. Trust me, it is possible!
Happiness is working in Vega IT and I truly hope that my happiness will be even bigger on my second anniversary, a 10 year anniversary. Until then, may happiness and health always surround you! :-)"
X Is for a Decade with Us
How did the time fly so fast? It has been a decade since you've joined our little team then, and now we have grown to a company of almost 200 people. Thank you Igor Gajic, Sladjana Miljanovic and Srdjan Donevski for everything you've done and you're still doing for us, and for being loyal colleagues.
To celebrate this important milestone we have decided to step up our game and treat our Sladja, Igor and Srdjan to a vacation of their choice. They could choose among luxury trips to New York, Maldives or Zanzibar. Guys, feel free to send us a few pictures. ;-)
We asked our colleague Sladjana to share her thoughts after being in Vega IT for a decade:
"Some people say that changing a job every two or three years is good for a career. This is maybe true, but let me tell you my story.
I came to Vega IT after graduation and started working as a front-end developer. At the time, I was the only front-end developer in the company. This made me work hard to build my knowledge while working on my daily tasks. It helped me learn how to look for answers, discover new things and made me and my knowledge stronger in general.
Later on, as our front-end team was growing, my responsibility became bigger as well - after I became a lead front-end developer. Having such a responsible role is not always easy but my team makes it worthwhile. The biggest motivation are my colleagues and team members. Besides that, there are a few people here that have become my close friends over the years
I can proudly say that I work in a place where I can develop both professionally and personally so I'm excited to see what comes next!"
From all of us… happy 5th and 10th anniversary! 

 Our doors are always open for great candidates who want to work in a company with a recognised freedom-centric culture. We invite you to check the open vacancies on our career page, send us your resume and come and talk to us. We are just a hop, skip, and a jump away from the city centre! :-)