Life At Vega IT
A New Milestone at Vega IT: Announcing 8 New Partners
Tijana Popov
Date 28-May-2021
4 minutes to read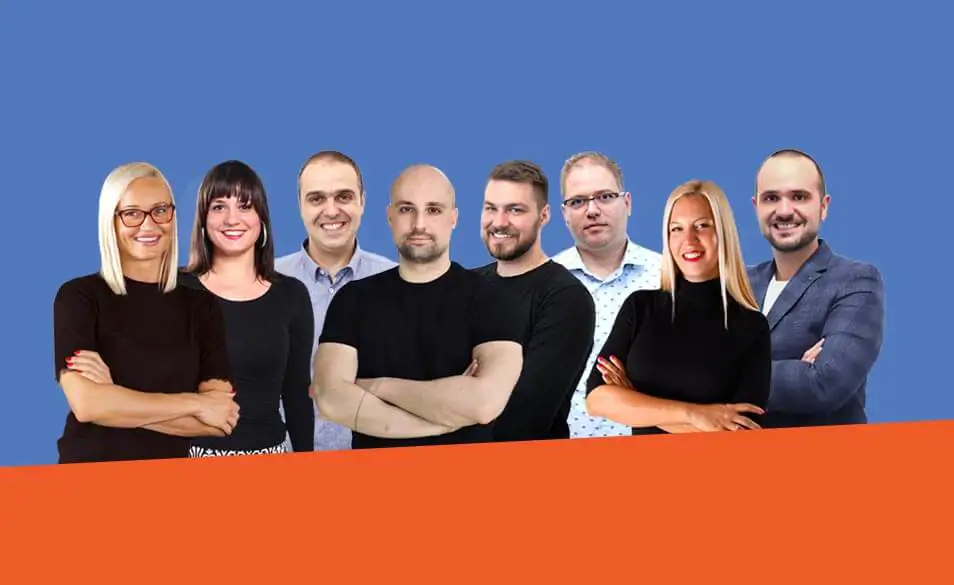 The stream of exciting news at Vega IT continues!
As one of the most prosperous years at our company continues, we are ready to make another (so far, our favourite) announcement of 2021:
Eight of our colleagues were officially made partners at our organisation!

Dear partners, congratulations on your amazing achievement!
Meet our new partners
Without further ado, we present you with our new great eight partners:
Nevena Nikolić - Digital Director
Maja Nedučić - Chief People Officer
Maja Božić - Chief Sales and Marketing Officer
Jovica Turčinović - Salesforce Lead
Nenad Perčić - Development Lead
Milan Kosanović - Project Director
Nenad Rad - Development Lead
Stanislav Grujić - Co-CTO
To learn more about this exciting change, we spoke with our CEO Saša Popović.
T: Saša, how did Vladan, Boban and you come to a decision to make eight of our colleagues partners?
Saša: For years, we've been working on the promotion and development of entrepreneurship in Serbia. We've managed to recognise the entrepreneurial spirit more than once in some of our colleagues. We've invested in some of them by making them partners in the companies which we founded together.
Apart from investing in young entrepreneurs, we've always believed it's important to invest in intrapreneurs as well—our colleagues who help us achieve even greater success within the company.
The first investment of such kind was eight years ago, when we made Boban Mikšin our partner by offering him shares in the company. Over the years, we realized that this was an excellent decision and that our company is, indeed, more valuable because Boban is part of it.

Boban Mikšin, Vladan Ostojić and Saša Popović
Now, we've decided to invest in a similar way in several other colleagues. Therefore, Nevena, Nenad, Maja Neducic, Nenad, Jovica, Maja, Milan and Stanislav have also been made partners in our company!
We believe that this change will significantly empower our organization. Moreover, we trust that the decision will inspire these colleagues to do their best so that we achieve even greater things in the years to come, and that, in the end, we will all enjoy the benefits of these achievements together.
Congratulations to all the new partners and I wish you even more success in the future!
This is a great moment for our company and I strongly believe that, with your help, we'll have a smoother path to reach the goals we've set.
We wanted to hear the impressions from our new partners, so we spoke with Nevena Nikolić and Nenad Perčić.
T: So guys, what was your reaction when you heard the news about the partnerships?

Nevena: Well, after Saša, Vladan and Boban told me the news, my response was such, that they had to ask me not to get too excited—being eight months pregnant. You get the picture :)
Nenad: Ah! I was speechless and with a blank expression on my face. It's entirely possible that Saša, Vladan and Boban were confused by my reaction. The first thing I said, after they told me they would make me a partner, was something unusual but at the same time, absolutely sincere: "I don't know how to respond to this."
I was overwhelmed with emotions, but I expressed none. The shock didn't allow me to understand any of the details they shared with me during the meeting. The only thing I remember from this event is the amazing feeling I had, which will continue to motivate me to keep working far away from my comfort zone.
T: Tell us about your career development path within the company.

Nenad: It all began with my arrival at Vega IT booth, during KONTEH, the Fair of Business Opportunities and Professional Practice. Here, I met Maja and Maja, whose level of enthusiasm left a huge impression on me. After the fair, I decided to try my luck and apply for the internship and prove myself as a young developer.

Maja Božić, Nenad Perčić and Maja Nedučić
Soon after that, I got the job offer, having finished my three-week internship with an excellent mentor, Jovica Turčinović, who is, actually, most deserving for me being part of this company.

After working on a few projects, where I received so much help and support as an absolute beginner, I gained enough confidence to try myself in the same mentoring role that helped me get the job. This role enabled me to meet so many young people, who pushed me to re-examine everything I know, over and over again, by asking excellent questions and by expressing their points of view.

The experience made me realize I truly enjoy this kind of interaction with people, and, soon afterwards, I became a team lead.

Couple of years later, I was given the chance to try myself in a new role, that of someone who encourages others to be better at their job—something totally out of my comfort zone. But, remembering how I enjoyed the days of mentorship, I opted for this path. From that moment on, the entire focus of what I did within the company changed.

The former thirst for new programming languages and perfecting my technical skills was now replaced with the desire to polish up my own skills as well as my people skills. I constantly balance between a passionate developer and someone who adores modern psychology.

Nevena: Instead of doing my internship, almost ten years ago, here at Vega IT, I arranged to do it in another company. Although I was very sceptical and indecisive about wanting to change the company, if it hadn't been for my friend who put me up to it and persuaded me to come to Vega IT together with her, probably none of this would have happened.

I really liked the company, and instead of the standard two-week internship, the agreement was to stay longer. I had an amazing mentor, Srđan Donevski, who struck me as an excellent mentor and a colleague. Back then, ten years ago, I promised him that I will never take down my Skype status which says "Srle, you are a genius" (you can check, it's still there).

I first started as a developer, and after a few years, I got the opportunity to become a project manager, which I really liked since I've always enjoyed working with people. Few years later, I started working on other things as well, when I found myself in the new role of a Digital Director. I am very proud of the fact that I was the thirtieth employee in the company, and now there are more than three hundred of us.

Knowing that you shouldn't miss out on a good job opportunity, everyone's hoping to get at least one and grab it. I, on the other hand, managed to seize two—apart from amazing job opportunities at Vega IT, I managed to find love here as well.
What's next?
Will this be our last update of the year? Is this the final list of our partners? Stay tuned and find out!

In the meantime, we will stay true to our core values and continue to thrive as a team.