Life At Vega IT
10th anniversary of Vega IT: From a dream to reality
Sasa Popovic
Categories: Life At Vega IT
Date 16-Aug-2018
6 minutes to read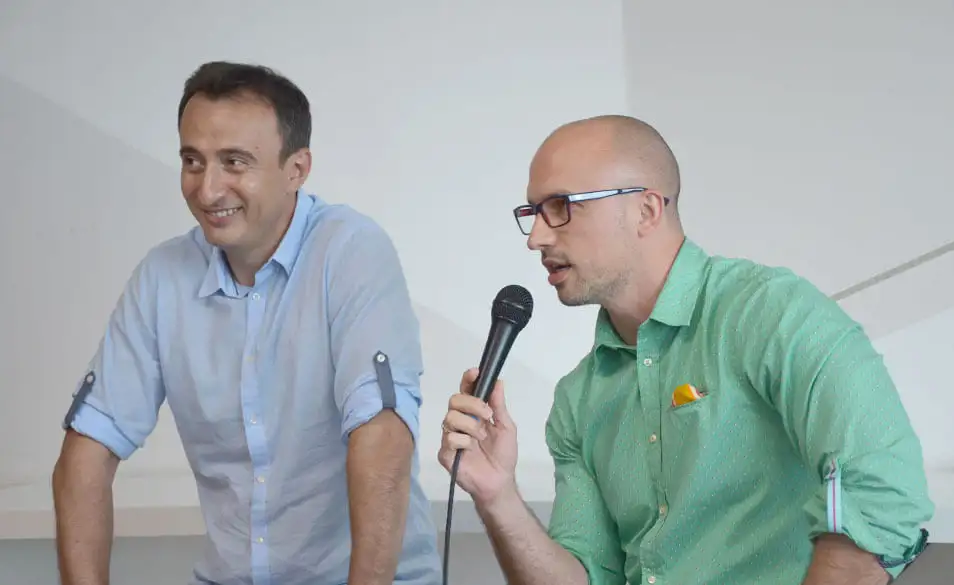 It's almost 20 years ago since Vladan and I started living together in a small room of a students' dormitory and started dreaming about founding a company together in the future. We knew it would be an IT company, but at the time we didn't know much more.
It was 10 years ago when we decided to start our first company and back then we knew exactly what kind of a company we wanted to build. Our plan and vision were partially based on experiences we had gathered until that moment, but much more on our intuition and dreams about that perfect job.
We wanted to build a company which will hire or develop the best professionals because we wanted to be surrounded by people who we can learn from and who will complement us. It had to be a company of knowledge and, more importantly, a learning organization. The kind of company where you would feel good on Monday mornings when you think about starting a new week at work.
And, to be honest, it was not only because we cared about other people and how they would feel when working with us, it was more for selfish reasons. We wanted to build a company for ourselves - the one where the two of us would enjoy the work we do and be surrounded by great people who also enjoy their work.
The company had to be successful and the business had to be agile to sustain itself in the years to come.
Finally, our dream was to make a company with a purpose. One that would use its power to make the world a better place. We wanted to start not only by improving the lives of our colleagues and their families but also to go beyond that and do good for our local community and the world itself.
Last month we celebrated our 10th anniversary and I thought this would be a good moment to reflect on what we've done so far and whether we are still on the right track to make our dreams a reality.

We have surrounded (and are still surrounding) ourselves with amazing and inspiring people without whom our success would not be possible.
 We started with two people and the total investment of something below 4,000 euros. For several years we hired people who had higher salaries than the two of us who are the founders and we re-invested all the profits we earned. That resulted in a steady growth of 20-30% per year and so we are now a 160 people strong company. One that has been voted as one of the most desirable employers and rewarded as the best of the fastest growing companies in Serbia.
 Here are some of the things we have achieved so far that we are truly proud of:
We have organized over 50 knowledge sharing events, both internal and external, such as Geekstone, Coding Dojo, Star Conference, Code for a Cause
We laughed and had great fun on more than 30 team-building events and activities
We bought and equipped a new working space (with the best view in the city) with amazing working conditions and a number of perks that help people feel more satisfied with their job
We have celebrated each success
We have involved our families in our job activities and the families keep on getting bigger every year
We have organized a number of charity events to contribute to the well-being of the community that surrounds us
We are the first company in Serbia who acknowledged the importance of happiness at work and  invested a lot of time and effort into developing a happier workplace
We strongly believe that investment in our education and culture is the right way for our still poor country to prosper. That's why we joined and are actively supporting a number of initiatives, organizations, and events that promote and help improve education and culture in our country.
We give a scholarship to a number of talented young people whose parents can't afford to pay tuition. We've started with that years ago and are proud that some of the people who got our support have joined us even though they were not contractually obliged to do so.
We believe that building strong and successful local companies is the best way to improve the living standard of our community so we've co-founded several other companies with our colleagues and friends in the past few years.
But, most importantly, we have surrounded (and are still surrounding) ourselves with amazing and inspiring people without whom none of this would be possible.
We are still learning every day, improving our organization to support its growth and still keeping in mind the ideas we had when we started this journey 10 years go. We'll continue to follow our dreams and we'll enjoy the ride!