Knowledge base
Tech Coffee Talk: Viktor Farčić
Tijana Popov
Categories: Knowledge Base
Date 23-Sep-2022
6 minutes to read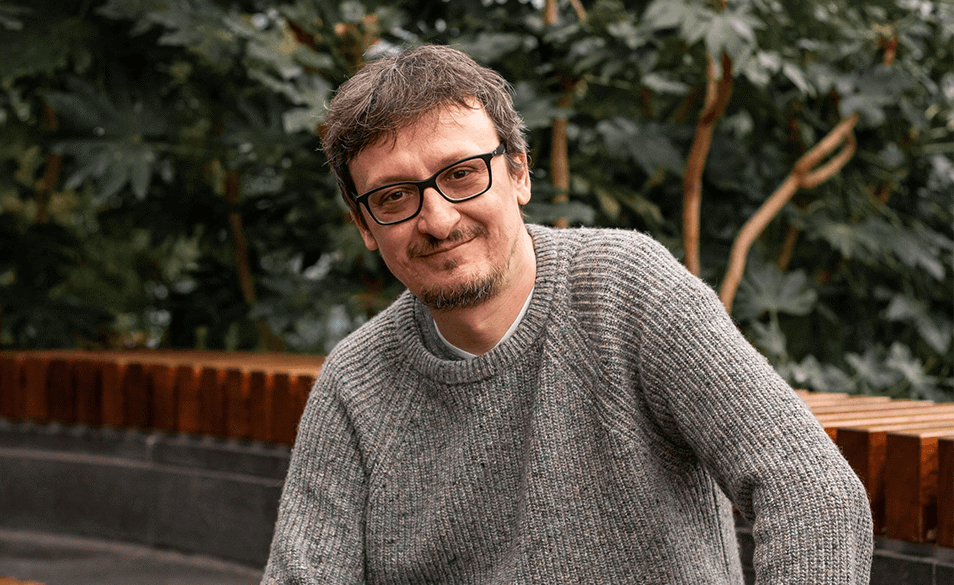 Last week we had a pleasure to host Viktor Farčić, a Developer Advocate at Upbound, a member of the Google Developer Experts, CDF Ambassadors, and Docker Captains groups, and a published author at Vega IT. 
During his stay, our colleagues had the opportunity to participate in a DevOps session with Viktor who shared his thoughts on different DevOps topics with us, just before the Geekstone community meetup.
T: Viktor, how did you choose DevOps? 
Viktor: I chose DevOps before DevOps became a name or an expression. To be precise, I chose automation which ended up being DevOps in one form or another. The main reason why I chose all that was because I was lazy. Extremely lazy. My objective was always to figure out how to automate my job, and how to automate my tasks so that I could spend my time doing something more interesting. The goal I was aiming for was to automate tests, deployments, and almost everything so that I don't have to do it manually. 
When it comes to my career path, it started when I sold software I created in my high school.  After that, I sold a couple of more applications to different businesses. One thing led to another, and here I am a Developer Advocate at Upbound. 
T: When you look at the current state of DevOps, how would you describe it? 
Viktor: In my opinion, the current state of DevOps can be described as utter confusion, and it all started with the misinterpretation of what DevOps truly is. 
But, essentially, the idea behind DevOps was rather simple - to create self-sufficient teams. 
Namely, the development and operations performed by Sys Admins were unattainable, so Patrick Debois and a few other people came up with the term DevOps as an idea to bridge the gap between departments and move towards creating self-sufficient teams. Teams that are capable of not only developing the code of the application but also testing that application and deploying it to different environments, monitoring it, etc. 
Fast forward to today, we can see that many companies are hijacking the term DevOps to create a buzz around their products. This caused a confusion which then led to generating a larger market for DevOps. 
At its core, DevOps is all about automation. Whether it will be fully automated in the future depends on the current state of the companies applying DevOps, but the sole idea is heavy automation. Vertical teams that provide services to others can't provide services without such automation.
T: What trends do you see as the future of DevOps?
Viktor: No matter what DevOps is or isn't, trends are clearly focused on the cloud. Everyone is already on the cloud, one way or another (AWS, Azure, DigitalOcean…) and now we are in the phase of making that cloud agnostic. This means that the difficulties between consuming different cloud services should be eliminated and moving from one cloud to another should become easier. Most of that effort is focused on Kubernetes. Even some very popular services that are not in Kubernetes (like serverless) are moving to Kubernetes as well, no matter whether you see it or not. 
What comes after the Kubernetes is a little bit fuzzy, since there is nothing on the horizon now.
T: From your experience, what are the biggest challenges in DevOps currently?
Viktor: I have to mention the confusion again. We need to get away from the confusion of what DevOps is, and what's not to have a better understanding of what constitutes DevOps teams. If the history of our industry has taught us something, it is that we will probably give up on the term itself, and then make up a completely different term that describes something very similar. 
T: Will DevOps evolve in the future?
Viktor: The essence and the principles of DevOps will continue to exist, but we will most likely not call it DevOps in the future. From a certain perspective, Agile evolved into DevOps, and that doesn't mean that Agile has disappeared, it just evolved. This evolution will result in a new term that better describes what DevOps is. Judging from what I see at different companies, there is an infinite number of deficiencies that should be corrected, and improvements that could be made, so I'm certain that we just scratched the surface of DevOps. 
Eventually, we will get to the point where the majority of the teams extend the scope of what they are doing (operations, security, etc.) and that's what we will ultimately call DevOps.
T: What are your plans for the future?
Viktor: I feel in a way privileged that I have the support of the companies in trying to help other people make improvements. From giving talks at conferences, doing workshops to consulting, writing books, or creating videos, I will continue to focus most of my time on helping others. 
Some of the next stops I look forward to are: 
ArgoCon, where I will be doing a workshop with the folks from Adobe
KubeHuddle in Scotland
KubeCon in Detroit
DevOpsCon in Singapore, and many others
T: Thank you, Viktor! Good luck with everything you have planned. It was a real pleasure to have you at Vega IT.