Knowledge base
Introducing Better Content Management with AEM Sevices
Date 07-Apr-2023
5 minutes to read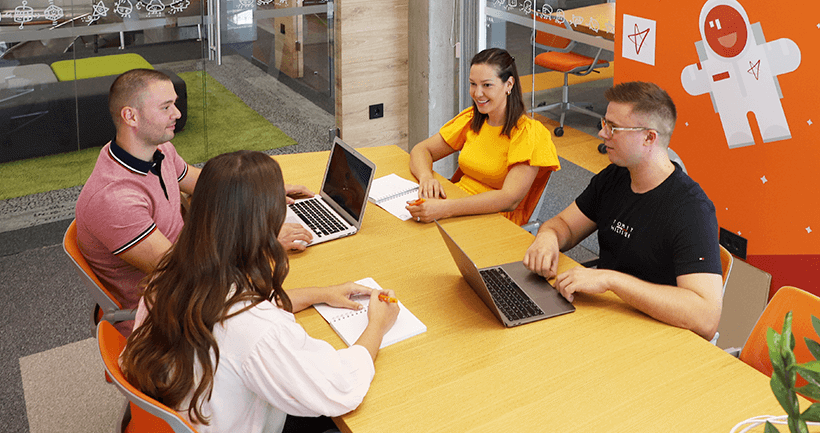 Quality content is key to providing a meaningful online presence today. It allows businesses to introduce products and services, demonstrate industry knowledge and expertise, and begin a conversation with their users. Crucial to reaching these advantages is commissioning, writing, and publishing content with an effective content management system (CMS).
An effective CMS transforms the process of content creation and delivery for organizations. Starting with content creation, a CMS enables teams to manage production, editing, and approval for official content channels to increase collaboration, oversight, and efficiency.
In publication, content management allows teams to distribute their content through multiple channels across multiple platforms with as little as a single click. By providing personalized content for each outlet and maximizing distribution across platforms high-quality CMS allows teams to maximize their reach and relevance amongst users.
Each of these is something Adobe Experience Manager (AEM) does exceptionally well. AEM is an asset and content management platform that allows organizations to author, manage, and distribute quality content across their digital channels. Combined with an industry-experienced Adobe Solution Partner it's a tool capable of delivering exceptional business outcomes for companies across multiple industries.
The AEM platform shines strongest for teams in its ability to deliver content at enterprise scale in a way that meets user expectations and requirements. In practical use, this means delivering optimized content to the web, divergent mobile platforms, and social media in well-composed easy-to-use workflows.
As a verified Adobe partner with 15 years experience in the tech industry — we thrive on deploying AEM for enterprise businesses and introducing teams to a remarkable set of tools. In this article, we take a look at what AEM services are, how they're being used in business today, and the advantages that they can deliver for your site and your content.
Introduction to AEM Services
The driving goal behind AEM services is to allow businesses to increase and enhance their digital presence across multiple platforms and audiences. The platform achieves this by utilizing its CMS capabilities as one component within a broader suite of tools known as the Adobe Experience Cloud (AEC).
This cloud-based suite of marketing, advertising, and analytics tools allows businesses to seamlessly integrate a wide range of marketing software to deliver better campaigns and services to customers.
The combination of powerful marketing tools and content production workflows makes Adobe Experience Manager more than "just" an open-source content management system (CMS) and extends its capabilities into a fully-fledged digital experience platform (DXP).
One of the pivotal features of AEM is the flexibility it provides for experienced teams to manage industry-leading content. As a CMS, businesses benefit from the exceptional capabilities of the platform, including:
Enabling multi-channel content delivery. AEM allows teams to design their workflows around a create once—publish everywhere philosophy that has efficiency baked in. Publishers can send optimized content to web, mobile, and social media platforms just by authoring a single post.
Providing multi-language support. Content delivery can be streamlined to reach more users and broader audiences than ever before by enabling the creation and publication of content across multiple languages.
Creating robust workflow management. AEM features a set of workflow management tools that bring additional control and assurance to the creation, organization, and publication of digital content.
Ensuring Maximum content reuse. Features for producing and organizing reusable assets allow greater efficiency, better accuracy, and faster production for a business's content teams by allowing smaller changes to have a broader impact.
Combined, these features make AEM one of the most capable, robust, and reliable CMS tools available on the market today.
Reaching these goals with a successful deployment of AEM tailored to your teams is key. To find out what that looks like in your company get in touch today with the services you'd like to see built in your organization.
Business Advantages of Adobe Experience Manager
Improved Task Management
As a platform designed with collaboration in mind across large teams of diverse skill sets — one of the biggest advantages of AEM is its low-overhead yet highly productive task management capabilities.
By splitting projects out into individual workspaces AEM enables teams to work across multiple projects simultaneously in real time by scheduling tasks, sharing files, and publishing content in close collaboration. For businesses, one of the platform's biggest advantages is its ability to project manage content delivery with the same attention to detail and tools that would typically be applied to a large-scale engineering project.
The benefits of vastly improved task management are somewhat unique to the AEM platform and something that allows content delivery to be professionally streamlined within organizations.
Better Multimedia Search
The platform's built-in search capabilities allow users to search through images, videos, and text with the same query — making it trivially easy to find the right assets to construct new content and refresh old media.
Advanced search capabilities allow users to apply modern image-based search tools such as facial and object recognition to search through their content library using attributes such as shape, color, and texture to find the right assets. Combined, these features allow content teams to curate and sort content for past, present, and future campaigns.
Media Management
Businesses often utilize the digital Asset Management tools of AEM services to organize, tag, store, and archive their multimedia content.
AI tools that assist in image recognition and search can also automatically tag media with relevant keywords and meta-data to assist in creating a comprehensive library of assets for business content. These tools are most commonly used to ensure content remains consistently up-to-date and accurate before being published to one of the company's public channels.
Personalized Distribution
Content delivery has to be particularly meaningful today to punch through the sheer volume and intensity that customers are used to facing. AEM helps to get your content noticed by enabling personalized content publishing to deliver to select audience segments.
AEM allows you to divide content to target personalized groups of customers with unique audience profiles based on user preferences, demographic data, and digital behavior profiles amongst other real-time analytics and data. The use of this tool allows teams to target digital experiences that are highly relevant to the user and match with an audience ready to act on a campaign that meets their interests precisely.
Cloud Native Content Management
For teams, the capabilities of AEM as a cloud-based CMS allow for highly flexible deployment across both co-located and distributed teams.
As a cloud-native CMS, teams utilizing AEM are able to manage content publication securely at scale. Using the broader suite of Adobe Experience Cloud technologies together creates an even greater opportunity to automate resource management and marketing tasks while optimizing resource use and availability.
How Modern businesses are Using AEM today
Today, businesses are using Adobe Experience Manager's tools to enhance the services they deliver to customers.  Doing this has enabled countless companies to improve their sales funnels with highly targeted content resulting in higher conversion rates.
One of the key advantages of AEM for businesses is the pivotal role it plays as part of the Adobe Experience Cloud. Integrations with Adobe Advertising Cloud, Adobe Analytics, and Adobe Audience Manager amongst other tools allow for a high degree of data sharing and analysis that we've seen deliver key insights and transform business.
As a verified Adobe Solution Partner, we frequently deploy specialized skill sets you to integrate AEM with Adobe Cloud and third-party platforms such as Salesforce, Magento, and SAP Commerce Cloud through the platform's highly capable API.
Transforming Your Digital Content with AEM Services
Adobe Experience Manager is a uniquely powerful and highly capable tool to bring cutting-edge technologies and apply them to content delivery and marketing.
The task management capabilities of AEM alone can revolutionize content delivery with project and time management tools that have previously been reserved for engineering roles. Combined with the asset management, audience personalization, and enhanced workflow tools that AES enables in teams — the platform has the capability to transform the digital footprint of most businesses.
Doing each of these well means creating workflows, tailoring the software, and targeting outcomes that will work for your unique business. As an Adobe Solution partner, we can do precisely that by deploying Adobe Experience Manager to your specific requirements.
By providing the experience you need and a personalized implementation to businesses — we've helped numerous companies reshape how they think about content delivery and reach entirely new global audiences as a result. Get in touch today to find out how AEM can fit in with your services.