Corporate Social Responsibility
Code for a Cause 3: Designers, Are You Ready to Give Back to Your Community?
Tijana Popov
Categories: Corporate Social Responsibility
Date 01-Aug-2019
3 minutes to read
We are overwhelmed with the positive response we have received during the voting phase last week. Anyone who visited our Facebook page could see how much the people from our local community were involved in the campaign.
The overall ranking of the project was changing until the last moment. We counted the votes on Sunday at midnight (CET), and published the results on Tuesday, July 30th.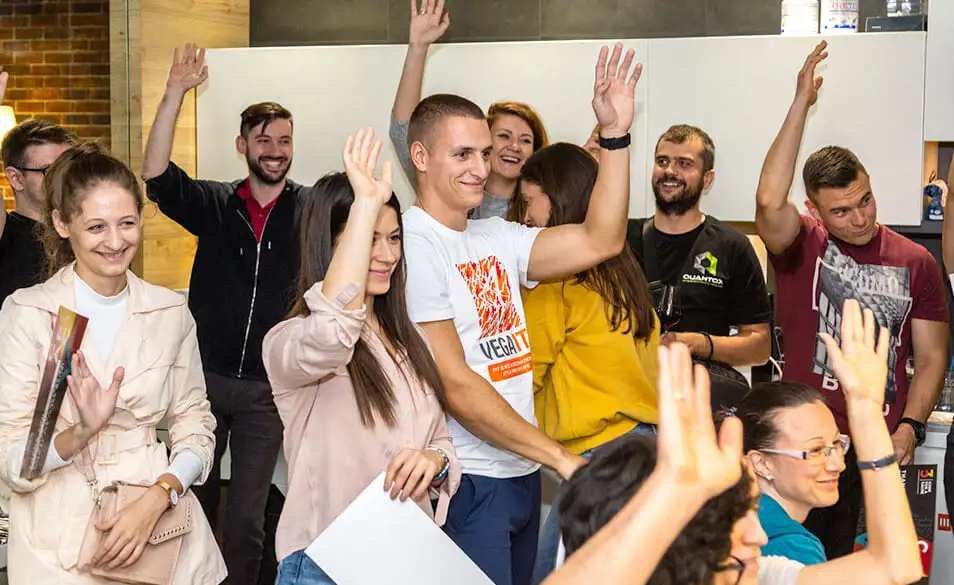 Are you ready to be the change you wish to see in the world?
It was hard to decide how many projects we can take on this year, but here comes the twist! :-)
This year, for the first time, we are going to invite other IT companies to join our campaign so that we can take on more projects this year. Why have we decided to do this? We strongly believe that we should spread the idea of giving back to our local community beyond the walls of our company.
Are You a Designer Who Wants to Help Organisations?
Great! We invite you to join us and FILL THE FORM ON THIS LINK.
How long Will This Phase Last?
The open call for designers starts now! All designs should be completed until September, 20th before the hackathon.
Which Projects Are Voted as Top 10?
The citizens of Novi Sad were responsible for making priorities about submitted projects. From 17 projects, this is how they voted:
1. A web application "Ne radi se, čoveče" (the association "Prevent")
2. Website for "Novo kulturno naselje" (the Association "Novo kulturno naselje")
3. A Web application for providing information and support to the people suffering from HIV (the Association "Red line" and "Youth of Jazas")
4. Improvement of the map of shareable and solidary Novi Sad ("The Urban Regenerative Sustainability Center")
5. A website for the association "Patria" (the association of citizens "Patria")
6. A website for the City Library in Novi Sad (City Library of Novi Sad)
7. A mobile application for Youth Newspaper ("Youth Newspaper")
8. A website for the association "Mileva Maric Ajnstajn" (the association "Mileva Maric Ajnstajn")
9. A calendar of cultural events in Novi Sad (Novi Sad 2021 - European Capital of Culture)
10. A mobile application for the Nature of Vojvodina ("Institute for nature conservation of Vojvodina province")
To see these projects come to life, we need to join our strengths and get involved. Our little can mean a lot for our local organisations.
What Are the Next Steps?
Next week we will get in touch with other IT companies in Novi Sad and invite them to join us for this worthy cause. We hope that our colleagues from other local companies will recognise the value of this campaign as well as how much we can contribute to our local community if we join our strengths and make a change together.
Did we mention that great fun is guaranteed? ;-)
If you work in a company that wants to join Code for a Cause 3, we invite to get in touch with us and see what we can do together! Feel free to contact us at any time at cfac@vegait.rs

*Vega IT keeps the right to add one or more projects if we believe that they would make a difference in the city we live in.