Corporate Social Responsibility
Charity IT Relay Race 2019: Open call for IT companies in Novi Sad
Maja Bozic
Categories: Corporate Social Responsibility
Date 22-Jan-2019
5 minutes to read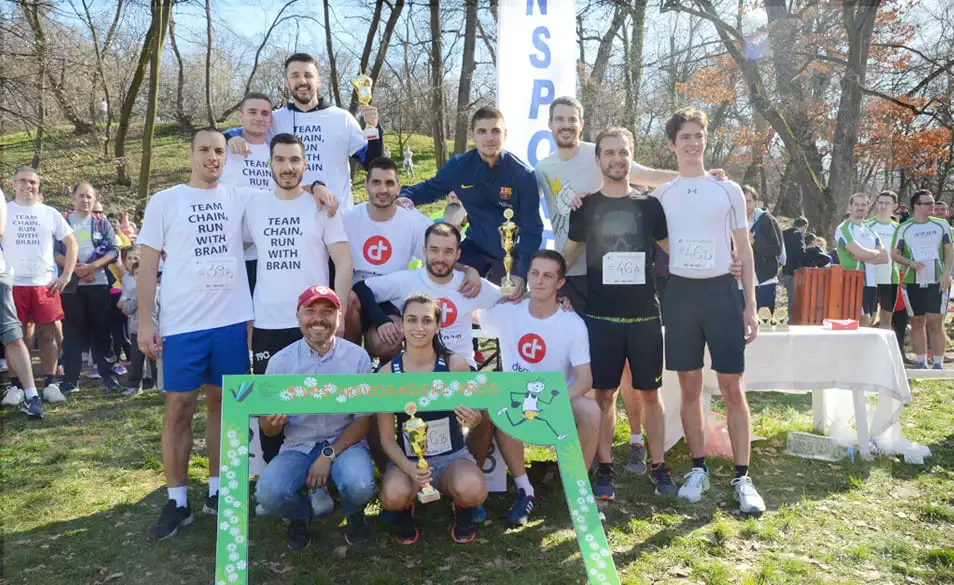 Be the change you wish to see in the world
Are you ready to make a difference and inspire a change in our local community? If you are, we are honoured to invite all IT companies and IT enthusiasts to join us at the "Charity IT Relay Race - 4 x 1.700m" for the fifth time. The race is going to take place on Sunday on March the 10th at 1 pm in Kamenički park in Sremska Kamenica.
How Does It Look Like?
Each team has to have four members and each athlete runs carrying a baton. As soon as he or she reaches the end of the track, they pass the baton to their teammate. In order to win the last person in a team needs to be the first one at the finishing line.
This race is a part of the "Cross For Children's Smile", the event organised by the Athletic Club Apatin and Goran Čegar who has been a successful athlete for 30 years. All of the selflessly raised donations go to the Safe House in Novi Sad.
Last year's race gathered around 350 IT professionals (80 teams) from 34 companies and collected over half of the total sum - more than 3.000 euros. Although candies and clothes weren't required, (but, still welcome), generous contestants brought them to the children without parental care.

We are very proud that the number of participants has constantly been growing over the years.
We are deeply thankful to all the colleagues from RT-RK, Nordeus Belgrade, Sixsentix, Levi9 IT Services, NovaLite doo, Zesium mobile, Schneider Electric DMS NS, Dunav NET, Codecentric, Frobas, KEBA, Vivify ideas, Execom, SmartCat, Manpower Group, Infostud, Veriest, Bright Marbles, Simple Task, Elsys Eastern, Devtech, NTT DATA, Fruškać, Typhoon Hill, Themes Kingdom, DOOb Innovation Studio, Devoteam, PMF, Mechanix, Decem, M&I System who ran with us for a good cause last year.
We are very proud that the number of participants has constantly been growing over the years. This year we expect even more IT companies to be there with us. That's why we would like to invite anyone willing to be a part of this charitable event to join us.
When Does IT Start?
Although the race begins at 1.15 pm, it would be great if everyone could come earlier to get ready, meet other participants and enjoy other races.
11 am - 12 pm - Picking up start numbers
1.15 pm - The beginning of the race
1.50 pm - Medals ceremony
What Are the Benefits Of IT Race?
Helping people isn't the only reason why "Charity IT Relay Race" has become a tradition. The runners view this race as a chance to inspire others to follow this example and improve our community as well.
This event promotes health which contributes to both physical and mental well-being of all of us. In other words, it doesn't only encourage us to be physically fit but also motivates us to have healthy thoughts.
The bottom line is that at this type of competition everybody wins. With this act of kindness, all the participants make children happy and also plant a seed which will grow into the better society for all of us. All of the runners get medals and certificates of appreciation. The winners are awarded by trophies and special prizes.

"I Have Never Missed an IT Race" - Miloš Sečanski
''I have been employed in Vega IT for three years and I have applied for the race each time!'', proudly says Miloš Sečanski, a software developer at Vega IT. He explains: ''The atmosphere is awesome! All the people are happy to participate. They do their best regardless of their stamina.'' Miloš adds: ''Each year there are more and more runners participating in the race. The news about a good cause like this one spreads really quickly. What's more, it is a good occasion to spend more time with colleagues.''
How To Apply For The IT Relay Race?
The application period is open until the 1st of March at 5pm. There is no possibility to apply on the day of the race. That's why we would kindly ask you to be agile, gather your team and make sure your good act will inspire even more people to put smiles on the children' faces.
If you have any questions, please feel free to contact us at itstafeta@vegait.rs
See you at the starting line!