Business Insights
What to consider when choosing the right country to outsource software development
Jovica Turcinovic
Categories: Business Insights
Date 29-Dec-2022
3 minutes to read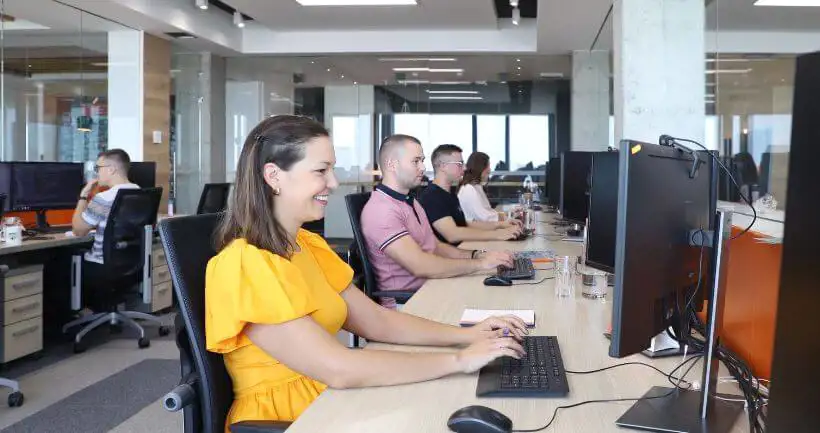 Nearshore and offshore outsourcing model, teams' culture, education, language… choosing the right country to outsource your software development can feel like a difficult decision.
Many companies outsource complex, time-consuming, and innovative projects to a software development partner to reduce time to market and focus on central activities. But what should you consider when choosing this critical collaboration?
A tech talent shortage has produced a pricing effect on the industry and as companies seek to go "agile" they can flounder when it comes to implementation.
India and China have long since been popular due to affordable development rates when compared to the US and the UK. But countries from Eastern and Central Europe are flying high on the top ten countries in which to outsource your software development.
Here is what you should look for:
Access to high-quality talent
Understandably, value is a presiding factor when outsourcing your software development, but access to a high-quality talent pool should be factored in. Expert resources are a cost-saving in themselves as your projects are swiftly and expertly delivered. The tech talent shortage can lead to project frustration for internal stakeholders, customers and finance directors. A software partner with a wide and complete talent pool means less risk and more successful business development. Serbia (in particular) is renowned for its strong universities and excellent engineers.
Language and cultural differences
Effective communication is essential to the success of any project regardless of whether it's delivered in-house, onshore, nearshore, or overseas. One of the main benefits of nearshore or offshore outsourced software development is cost-savings but one often overlooked benefit is their expert processes when handling project communications. Serbia has a high English proficiency and is currently listed as fourteenth in the world - providing significant advantages.
Tried and tested internal processes, a dedicated team, and a breadth of talent from around the world mean that your project can be managed fluently in your preferred language. Cultural differences have little to do with skills, but they can impact your project. Don't be afraid to ask a potential software partner about their:
Working style
Internal processes
Project and remote relationship management
Case studies and referrals
Multilingualism and values
Expertise, trust and transparent communication will ensure the effectiveness of your software collaboration.
Time zones and Location
Many companies choose a nearshore or offshore software development partner due to the reduced costs and increased resources, but there will often be time zones and geography to factor in. Eastern European countries have an advantage here due to a more centralised position.
For example, a UK-based company could outsource to a Serbian software development partner and enjoy a mere 1-hour time difference, while other Western European countries operate in the same time zone as Serbia.

When choosing your outsourced software partner, look for end-to-end development services and support.
Business domain knowledge
In a world defined by agility, deep domain knowledge leads to whole business improvement. When choosing your outsourced software partner, look for end-to-end development services and support. The right partner will understand your niche and keep you ahead of the competition by utilising previous experiences.
Top Central European country for software development outsourcing
Many companies are looking to centralised European countries such as Serbia as they offer savings and superior resources with aligned culture and communication. Such skilled nearshore software support is perfect for European countries such as Germany, Denmark, Belgium, Holland, Switzerland and the UK.
Pros for outsourcing your software development to Serbia
Your software development costs will always play a strong part in decision-making. While cost savings are the strongest motivator when outsourcing your project, there are numerous benefits to partnering with a Serbian software vendor:
Central location with easy access to all European countries
Suitable time zone for European clients
The country offers a proven record of high-quality engineering
Serbian cultural identity is a mix of cultures, with dominantly western culture
Multilingual professionals with high proficiency in the English language
Cons for outsourcing your software development to Serbia
The Serbian timezone may not be suitable for everyone and it's important to choose the right software partner for your needs and software projects.
With a fair and balanced view of outsourced software development, you can allow the decision to ultimately boil down to your needs. Can your new partner meet them and more?
Vega IT is a family of over 800 engineers and developers who are fuelled by happy, successful software projects. Health care, fintech, pharma – we deliver software projects for growing companies around the world.
Our mission is to use our success to create a better world. Our culture radiates responsibility, friendship and happiness, with happiness being one of the main drivers of our business. Happy culture, happy colleagues, happy customers!
Please get in touch to find out how Vega IT can support your business.