Platform:
In the past years, EPiServer CMS has become one of the leading content management systems and digital marketing suite. Client's editor in charge can create new responsive digital experiences, when needed, with straightforward drag and drop function.
EPiServer integrates to external systems using REST-based API for communication between CMS and other systems. This approach helps connect systems faster, whilst being easy to use.
For this project, we needed a safe and reliable content management solution, due to the client's financial niche. Also, we suggested utilizing TLS cryptographic protocols to enable secure communication by encrypting data sent to and from each of the endpoints.
Our client is a leading provider of retail banking services in Cyprus, providing a variety of services to more than 775.000 clients. The client already had a website, which was outdated and needed a complete rebuild to accompany the organization's new digital identity.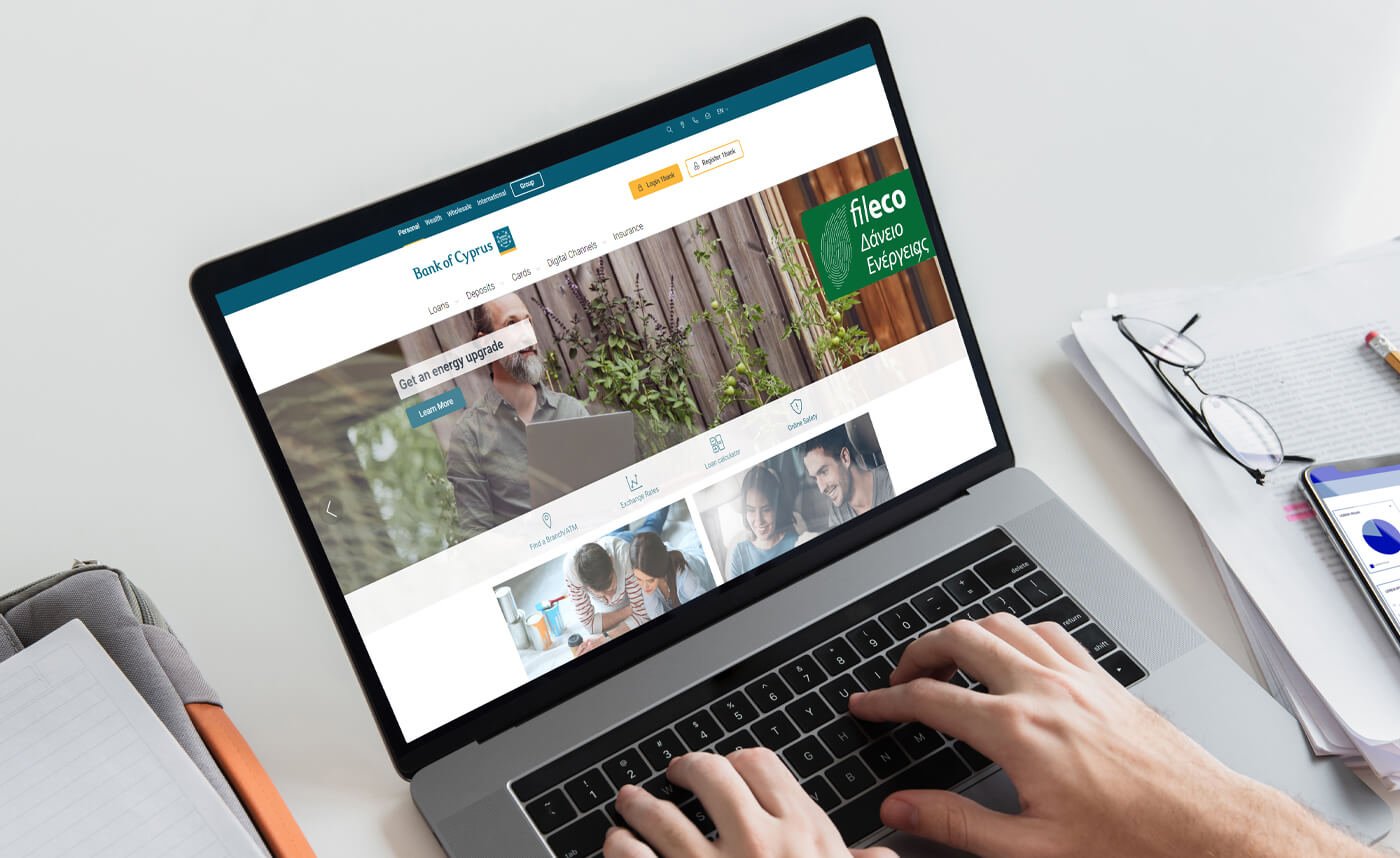 Goals:
With already developed UI design for the new website, our responsibility was to implement all the technical aspects of the website. At the same time, we needed to create a website that will be easy to manage/update by the client's editor.
The pivotal goal of this project was to create an appealing online experience for Bank's end-clients. These changes would help them firmly establish the brand as a dominant company on the Cypriot market.
Solution:
Our client needed a website to present their services, offers and new updates to their customers, so we suggested using the EPiServer content management system. The new and easily-managed website reflects a company's new visual identity. During the development process, together with the client, we decided to implement additional pages and features to the website.
Since the Bank is serving both Cypriots and non-Cypriots customers in Cyprus, we implemented a multi-language feature on their national website. By choosing a preferred language, Bank's clients can find needed information in four different languages.
With EPiServer CMS, we solved the client's problem of implementing constant updates and changes to their website.
Technologies:
The client-side used the following technology: HTML5, CSS, JavaScript, while the server-side used EPiServer CMS v10, the .NET Framework, and C# programming language.
The team:
Our team consisted of 2 EPiServer developers, a front-end developer, and a project manager
Result:
The website launch was successful. New UI & UX made browsing on the website more intuitive, which led to increased satisfaction of their existing clients, recorded growth in registering new clients and improved Bank's financial results.
For more information about this or any other project, feel free to contact us.