Business Insights
Types of software outsourcing: Offshore, Nearshore, Onshore, Hybrid - What's the difference?
Jovica Turčinović
Categories: Business Insights
Date 30-Dec-2022
8 minutes to read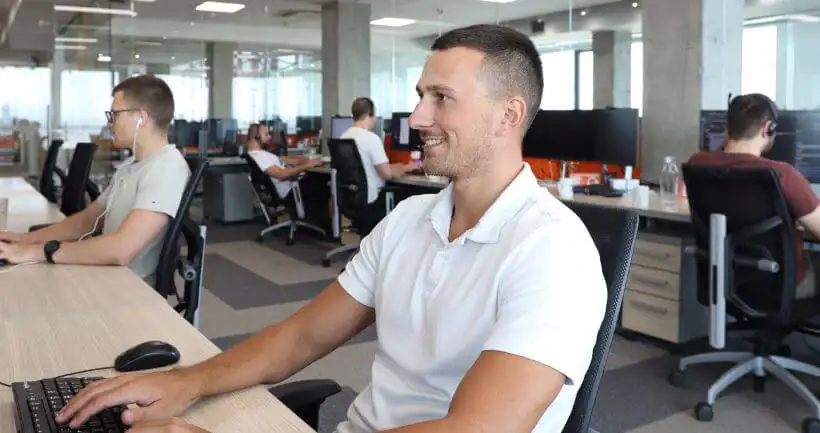 With technology that is evolving around the clock and the economy that is going global, a mass of companies find it challenging to develop software solutions in-house. 
One way of overcoming this challenge is outsourcing software development projects to the right company that provides a team of software developers, who focus on your business goals and deliver you a quality end product.
Software development outsourcing
A lot of companies turn to software development outsourcing. This successful business model has benefited both smaller companies and tech giants like Google, Slack and many others. Some of the reasons why software development outsourcing is on the rise are the possibility of cutting costs and saving time but also finding the team with the right domain expertise. The bottom line is that instead of creating an in-house team which is a time-consuming and money-draining process, you can simply invest your time in optimizing the core functions of your business instead.
The choices for outsourcing are highly accessible today. There are numerous countries around the globe that offer substantial opportunities for software development outsourcing. For instance, Serbia is one of the favorable countries for outsourcing in Central Europe because its IT sector is rapidly developing. Its educational system remains focused on STEM and 10% of its GDP is generated from the ICT sector. Also, according to EF English Proficiency Index, Serbia has a high proficiency band in the English language.
What are the types of outsourcing?
Depending on the needs and business goals, companies can opt to outsource their IT projects to offshore, nearshore or onshore software development companies. There is also hybrid outsourcing or a combination of onshore management and offshore or nearshore outsourcing.
Offshore outsourcing
Offshore outsourcing means transporting your software development projects to overseas countries.
With a reputable offshore partner, you get a huge workforce and an arsenal of resources. Therefore you don't need to manage your in-house team to deal with business operations that are supposed to scale to demanding levels. Turning to an offshore software development company enables you to optimize your costs.
However, although this outsourcing model offers the possibility of cost saving, there are some things to keep in mind like time differences, educational system, cultural differences, etc. These drawbacks could bring you possible difficulties in organizing and managing the offshore team.
Nearshore outsourcing
This type of software development outsourcing includes hiring a company that is located in your neighboring country.
This brings you an advantage of the same or similar time zone which makes communication and collaboration in real-time more accessible. Next, service costs are generally affordable which enables you to manage your expenses better. Moreover, by hiring a nearshore software development company, you will sign up for the support of developers with diverse expertise and knowledge. Dipping in a huge pool of talent enables you to work alongside specialists with huge experience in creating complex software solutions.
Finally, this business model is convenient for you if you want to minimize development risks and control the project. Since the nearshore company is close to your own country you can easily attend live meetings with the team to make sure that everything is on the right track.
Onshore outsourcing
This business model suggests that the hired software development company is located in the same country as yours.
This means that you and your hired team will share business culture, establish closer contact and have a stronger business-to-client relationship.
The onshore development team is always reachable in case of emergency or if your project requires constant back-and-forth collaboration. The cost benefits of this outsourcing model are usually minimal and the hired software development company usually has higher service costs. The benefit of working closely with your hired team could bring you faster delivery cycles and minimize the risks of delays, problems or quality concerns.
Hybrid outsourcing
This outsourcing model lets you manage the project onshore while you hire the nearshore or offshore software development company to deal with technological operations, customer support or infrastructure.
The hybrid model is a good choice for projects that have complex and specialized demands. It connects two teams in an effort to complete the tasks faster by distributing assigned work where necessary. For example, you can offshore basic development tasks and coding. On the other hand, more advanced coding or system configuration is done locally or onshore.
The hybrid model allows you to have clear communication and easier collaboration because all members of your team that are client-focused, reside in your own country. At the same time, the work you distributed to offshore or nearshore members of your team utilizes a huge pool of resources at competitive rates.

Software development outsourcing
When is the time to outsource software development?
There are different moments when you realize that you need to start outsourcing software development. It could be the moment when your company is way past the stage of using off-the-shelf products and needs a software development team to build, support and improve new products that will keep your business ahead of the game.
While your business is growing, you may get more work like implementing new technology that could be beneficial for your company.
When you decide to outsource in these moments you can easily scale your team up and down with experts with the proper expertise and experience. This way you save your time and focus on your business growth.
Why do companies decide to outsource their software development?
Outsourcing doesn't have to be just about cutting costs. If you can't find the right team of experts to complete your project then software outsourcing enables you to meet top engineers all around the globe. You can hire an entire team of IT specialists that are experts in the domain necessary for your software development project or simply augment your existing in-house team that lack those specific skills or can't handle all the work.
By outsourcing software development projects you access new expertise and technical skills that enable your business to grow. You keep in touch with innovations and tech advancements and stay ahead of your competition. Software development outsourcing can cut your internal costs and allows you to stay flexible because you only have to pay for the services necessary to keep your business up and running.
With a competent team of outsourced software developers by your side, you can reduce your time to market. Once the team grasps the gist of your project's requirements they can complete the task faster.
Moreover, there is a possibility to have the whole team outsourced, including Product Owners, Business Analysts, QA and DevOps engineers and others.
Which outsourcing option is right for your company?
Prior to choosing the best option for outsourcing software development, you need to clearly establish the task and business goals you want your vendor to realize for your company. 
The offshore outsourcing - you already have experience in remote project management or you are looking for a multinational software development team with high-level expertise in the technology that your business needs.
The nearshore outsourcing - geographical proximity and similar or same time zones are crucial for you. You stay in control of the project by visiting your vendor back and forth when necessary and you also don't have to deal with language barriers.
The onshore outsourcing - you want to reduce the risks connected to project development and make sure that your vendor is reliable by always communicating live.
The hybrid outsourcing - you want to keep strong control over the project and set up a close collaboration between the outsourced and in-house teams.
Partner with Vega IT for the highest quality IT services
Vega IT is an IT service company that partners with clients worldwide and helps them accomplish outstanding business results. Next to Software Engineers, this company's team includes Business Analysts, Project Managers, DevOps and QA engineers and Product owners. This competence is what sets this company apart along with deep domain expertise, innovative thinking and the highest quality talent.
When partnering with Vega IT, you can either get a self-managed software engineering team or augment your in-house team. It all depends on your project's needs. You have full control of the team composition and can downsize it in just 24 hours if necessary.
Vega IT is a highly experienced software development company and its team can easily and quickly make use of the knowledge to understand your project goals, specific industry, customers and challenges. The team of business-minded engineers can even develop the entire business idea you have in mind or give you specific advice that will benefit your business.