Business Insights
Roller Coaster 2020 - from Chaos and Uncertainty to Growth and Success!
Sasa Popovic
Categories: Life At Vega IT
Date 04-Jan-2021
3 minutes to read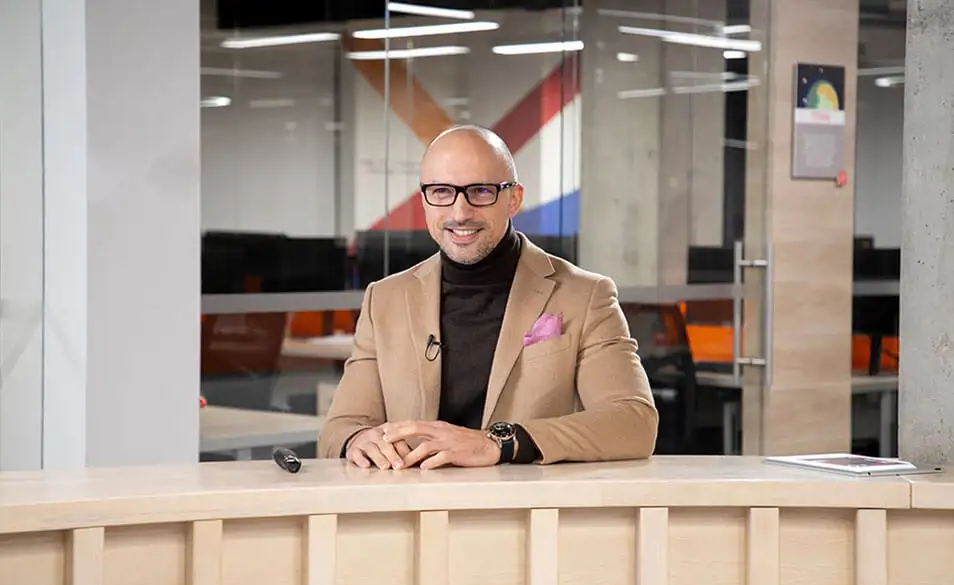 What a year! 2020 has been full of surprises, many of which we didn't ask for.
At this time of the year, when I reflect on the year behind me, I usually think in terms of challenges, stable growth and some interesting things that have happened along the way - you could compare that to hiking. 2020 was so much different - it was a real rollercoaster!
How 2020 Started
Let me take you back to the beginning of 2020. It started very well for us. The first three months were all about growth - in revenues, profit and number of people at Vega IT. At that time, on the wings of our success, we were considering a large investment. Being fans of the productive paranoia approach, we decided to skip that opportunity until we become even stronger financially. That was in February 2020.
Here is what Jim Collins said about those companies who use the productive paranoia approach:
"By preparing ahead of time, building reserves, maintaining "irrationally" large margins of safety, bounding their risk, and honing their disciplines in good times and bad, they handled disruptions from a position of strength and flexibility. They understood, deeply: the only mistakes you can learn from are the ones you survive." And that's exactly what happened to us!
When the Descent Began
April and May were terrible! Revenues were dropping for many of our clients due to the lockdowns caused by the COVID-19 outbreak. Their business loss caused our monthly revenue to decrease by around 30%! And that was not the worst thing we experienced; we didn't know what to expect further down the road and how long the crisis would last. The uncertainty was terrible and my partners and I didn't even sleep for days.
But there were those who suffered even more than our business. Healthcare systems around the world were not prepared for such a huge pandemic. The situation in Serbia was not great either. Our healthcare system needed more respirators and all different kinds of other equipment and supplies. We were struggling to make the right decision - should we help it or stand aside and focus on keeping our business going? That decision was unanimous. We had to show by example that businesses have to be socially responsible even during the hardest times. We managed to make several donations throughout the year and invited many companies to join us in those initiatives.
Dedication and Hard Work Pay off
Now back to the business. We didn't just sit and wait to see what would happen next. Being fully transparent with our colleagues and asking them for help when we needed it resulted in extremely good performance which paid off in the end. In addition, our CMO decided that marketing alone will not help us in the short run and started experimenting with different approaches to business development. And her initiatives started to give results! We never did any business development activities before, but this approach gave us new clients and additional work at the time when we needed these the most. A new team was born at Vega IT and we are ending this year with three full-time business development representatives!
After the first shock, the world started adjusting to what's now called "the new normal". Life went on and business continued to work. Vega IT was also quickly back on track, with our brand new business development team and their results which helped us start growing once again.

The second half of 2020 was all about new clients, new projects, new hirings and new investments.
We hired more than 70 people during this year and the majority of them already got to work on interesting and challenging projects.
We started to work with 19 new clients! From fintech to biotech, our colleagues got a chance to work on so many different projects and technologies and our company diversified its business even further.
Back on the Success Track
And then there were several interesting opportunities for investment. We decided to co-found an information security and cybersecurity company. So, Security Knights was born! We see a huge potential in that area and look forward to helping companies around the world improve their security. Also, we decided to invest in a game development team with a few years of experience in the field. The preparation work is coming to an end and the new gaming company will start operating in January 2021.

Security Knights, an information security and cybersecurity company.
And entrepreneurship itself is not enough. We believe that you have to start with a great educational system. That's why Vega IT has been supporting a number of initiatives that help improve the educational system in Serbia for years. This year we decided to go a step further and co-founded a high school for the future. We know that a single high school can't make a huge difference itself, but we believe that we can set a good example of how things can be done better and hopefully see other schools follow our example in the years to come.
As we were approaching the moment when we would be a 200 people strong company, we looked at the ways to improve our organisational structure to better support our colleagues in their professional development and work and help them feel better at work. We examined different approaches used by successful companies of different sizes from all over the world. The structure that we liked the most is the one known as the Matrix Structure. Now, besides having a team leader or a project manager, our colleagues also have career development leaders assigned to them as an extra benefit. This new approach allowed us to grow even further (we are a 240+ people strong company at the moment of writing this) while still maintaining a flat structure.
The most Significant Investment in the History of Vega IT
Our plans for the next year are the biggest ones in the history of our company. Our willingness and readiness to grow and develop will enable us to work on more interesting projects, further improve our organisational culture and make our colleagues feel even better at work.
Knowing that such growth requires additional office space, Vega IT bought a 13-floor building in the city centre of Novi Sad!

We plan to renovate it and make it the most beautiful building in the city - a true landmark that both our colleagues and fellow citizens will be proud of. What a closure to this turbulent and challenging year! We couldn't be more proud of our collective strength that allowed us to battle this year's crisis!
Roller Coaster - the Force That Pushes Us Forward
Have you ever wondered why we don't fall out when a roller coaster goes upside down? Physics teaches us that gravity is counteracted by centripetal force, due to acceleration, which is the force that pushes us into our seat. Looking at the year behind us, and the challenges caused by the COVID-19 outbreak that we faced, I can say that acceleration (investment in a business development team, hiring, organisational structure and culture, etc.), together with the principle of productive paranoia helped us, as a company, to survive and thrive despite the roller-coaster year.

I wish you all a healthy, happy and prosperous 2021!