Business Insights
How to Choose the Best Software Development Outsourcing Partner in 2023
Jovica Turčinović
Categories: Business Insights
Date 03-Nov-2022
6 minutes to read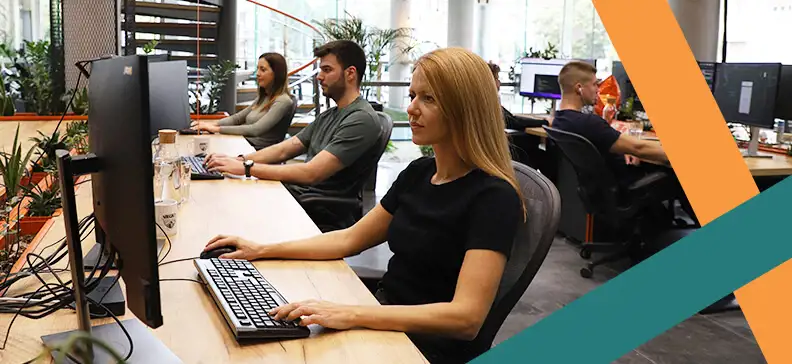 Choosing the best software development outsourcing partner in 2023 is not a lighthearted decision. There are numerous aspects to consider before making the final call.
In this article, we will provide guidelines on how to hire the right software development outsourcing partner for your business.
What Is Software Development Outsourcing?
Software development outsourcing is a process of hiring a third-party vendor to develop a software solution. Both startups and established companies opt for outsourcing software development to speed up production without disrupting their in-house structure. By doing so they delegate the responsibility and ensure the required tasks are completed on time and within budget.
Why Do Companies Outsource Their Software Development?
Businesses are increasingly turning to outsourcing software development to stay on top of the game in their respective field.
A company may find its in-house team lacks the skill set necessary to deliver a product. Partnering with a third-party software development company provides access to a pool of professionals with the required expertise and experience.
Another common reason why companies opt for such a solution is to reduce staff costs. Outsourcing software development means there are no additional recruitment or operational expenses. Having full-time employees in-house impacts the budget with various hidden costs. Hence, companies that cannot sustain a large in-house team are better off outsourcing software development.
Finally, companies often outsource their software development to ensure quicker time-to-market. Hiring a team of experienced developers speeds up the development process as well as the product release.
What Do Companies Need From Their Software Development Partner in the Digital World?
Each project is unique in terms of its requirements. While some companies may need a dedicated managed team close to their headquarters, others find hiring a project-based nearshore team to be the best solution.
Aside from technical expectations, there are certain criteria all software development companies should meet:
Domain expertise
Experienced talents
Innovative thinking
What are the Models of Software Development Outsourcing?
There are three different approaches to software development outsourcing:
Onshore software development.
Nearshore software development
Offshore software development
Before you decide on an outsourcing partner, it is crucial to understand the differences between the models. Then, consider the project's requirements, the needed skill set, collaboration concerns, as well as the assigned budget.
Onshore Software Development
Onshore software development implies outsourcing tasks or projects to a third-party vendor located in the same country as your company. Out of the three models, this is the closest option geographically. Businesses that opt for onshore outsourcing are usually the ones that prefer face-to-face meetings and/or location-specific knowledge.
The onshore model provides benefits such as similar regulatory laws, no language or time-zone obstacles, and the opportunity for in-person meetings. On the other hand, it puts a limitation on working with experts around the globe.
Nearshore Software Development
A business utilizing the nearshore approach outsources work to a software development company in a neighboring country. It involves outsourcing projects to experts outside your country, but within the same time zone.
The main advantage of nearshore software development is a bigger pool of people to choose from. Therefore, it is not as restrictive as in the onshore model. Additionally, the partnering companies may share cultural and language similarities that can help establish communication and the overall business relationship.
Offshore Software Development
Offshore software development is the practice of hiring a third-party development company from an offshore location. This means a company has access to talented experts across the globe.
There are numerous benefits of hiring an offshore software development company. While offshoring was known as the most cost-effective model, today it is valued for its quality. What's more, due to its 24/7 development cycle, offshoring significantly speeds up the development process without compromising the quality of the product.
What Are the Types of Software Development Outsourcing?
There are three main types of software development outsourcing:
Hiring a dedicated team
Staff augmentation
Project-based model
Dedicated Team
A dedicated team model of software development represents partnering with an outsourcing company that provides a team of experienced developers, product owners, business analysts, project managers, DevOps and QA engineers dedicated to your project. Although this team operates independently from your in-house employees, both sides share responsibility for the project.
Once you define the project specifications and requirements, the outsourcing company puts together a team of professionals perfect for the job required. In most cases, there is an outsourced Project Manager that oversees the dedicated team. He or she serves as a bridge between the outsourced team and the company's in-house project manager.
This type of outsourcing is suitable for long-term projects that do not have a strictly defined scope. As the outsourced team is fully dedicated to your product, it can handle mid-way changes and embrace agile development.
Staff Augmentation
Staff augmentation implies expanding your in-house team with outsourced professionals to help you complete a project. You hire an outsourcing company to elevate the existing structure based on the requirements for the given project.
In terms of software development, the client specifies exactly what expertise they need in a developer and the outsourcing company provides professionals experienced to fulfill the task. This way you avoid recruiting, hiring, and training new employees. .
The staff augmentation model is a flexible, cost-effective way to speed up development while retaining full control over the project. It suits businesses that already have an in-house development team, as well as technical leadership to oversee the project.
Project-based development
Project-based development is outsourcing a software development project to a third-party vendor who manages the entire process and delivers the completed project. As the outsourcing company has most of the responsibility, your in-house team can focus on other tasks.
Unlike staff augmentation, this type of software outsourcing is best for companies that have limited in-house IT staff. Additionally, it is best for projects that are not related to the company's main product.
The project must have clear specifications and predetermined requirements. The more information the outsourcing partner has the less managing and overseeing you need to do.
How to Hire the Right Software Development Outsourcing Partner for Your Business?
Not sure how to hire the right software development partner for your business? Follow the steps outlined below.
Step 1: Define your strategic goals and desired business outcomes for your software development projects.
You should have a clear vision of what you want to achieve with the project before reaching out to a software development company.
Step 2: Consider the right type and model of outsourcing for your business.
Determine whether geographical distance plays an important role in your case and explore different types of outsourcing. An experienced vendor could help you in choosing the right model of outsourcing that will work for your business.
Step 3: Create a list of potential software development vendors.
Once you have decided which model to choose between onshore, nearshore, and offshore outsourcing, you can research potential vendors in the desired location.
Step 4: Schedule introduction calls.
Once you have narrowed down the list of potential software development vendors, move on to booking introduction calls. Reach out via email or contact form and provide some information about your ideas.
Step 5: Check to see if your potential software development partner has your business domain expertise.
Research the services the vendors you have chosen to contact provide to ensure they have the professionals your project requires.
Step 6: Check their technology stack and expertise.
A company that uses a broad range of technologies is more likely to have the required expertise.
Note: Vega IT offers a wide range of services and the highest quality talent with technical and domain knowledge. Check out what we do to see whether Vega IT can take your project to the next level.
Step 7: Ask to see their case studies.
Case studies are the best way to see a company's software development solutions in practice.
Step 8: Ask for references from previous clients.
Apart from researching the company on Clutch, ask for references from previous clients directly from the outsourcing company. Reach out to some of them to hear their experiences.
Step 9: Verify the vendor's security and privacy policy.
Make sure the outsourcing company maintains high-security standards and ensures the security of their client's data.
Step 10: Check their pricing models and payment terms.
Make sure the vendor's pricing model corresponds to your budget and payment terms. Make sure you are paying the best price without compromising on quality.
Step 11: Establish clear goals for outsourcing and set milestones.
Communicate your expectations clearly and set goals and milestones to keep track of the progress.
Step 12: Visit your shortlisted software development vendors and get to know the companies better.
If the geographical distance allows, you may want to visit a couple of vendors for an in-person meeting. Alternatively, you can schedule an online meeting. Getting to know the companies better will make you more comfortable with your final decision.
Step 13: Make a final choice and negotiate the contract.
Once you decide on a vendor, set up a meeting and negotiate the contract. Before signing, make sure you understand each point listed in the contract and discuss any necessary changes.
How Can Vega IT Help You with Your Software Development Needs?
With 15 years of experience and over 1000 successfully completed projects across the globe, Vega IT has established a reputation as an innovative, proactive, and accountable software partner.
No matter if you are searching for a self-managed team or staff augmentation for your existing in-house team, Vega IT has over 800 employees ready to take on the challenge.
If you are looking for a smart affordable solution with a no-commitment business model, schedule a call to see how we can help you achieve your goals.