Business Insights
Do you have what it takes to raise the game for your growing business and scale up fast?
Author: Sasa Popovic
Categories: Business
Date 21-Feb-2023
4 minutes to read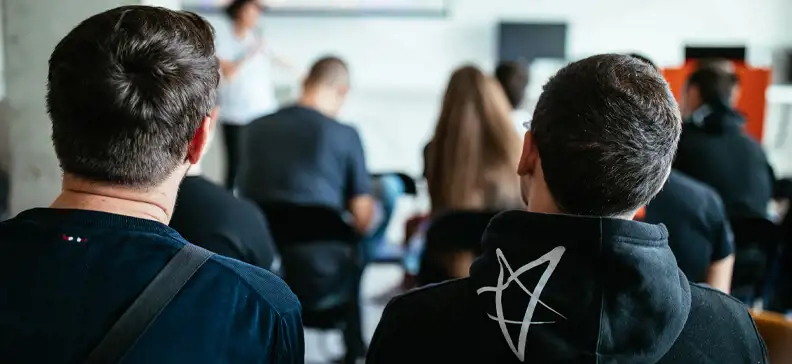 When you have worked hard, customers love your product or service and your business grows, you will start to feel it's time to take your company to the next level and "raise the game."
However, questions are looming over your head, and you're unsure how to go about it – which strategy to implement, which market to enter, should you go into hiring, or are there other opportunities you still haven't thought of?
Scaling Company In a Controlled Manner
Achieving sustainable growth as your business approaches the limits of your current capacities comes with specific challenges besides staying true to the values and ideas you once had when you were a startup. One such challenge is scaling – up, especially if you are a service or a product-development (software) company. 
The ability to scale up is crucial to business growth and success. It refers to a company's ability to increase production, expand its reach, and grow its customer base without sacrificing quality or efficiency. However, scaling up can make or break your business, as it is often one of the most challenging and time-consuming stages in a company's lifecycle. 
Important Questions To Ask Yourself Before Scaling 
Because if not done in a controlled manner, it can lead to a range of organizational and people issues that will be difficult to correct even in the long term. Scaling isn't just about hiring more people – it's about establishing clear priorities, an effective roadmap, right metrics, all while handling proper internal communication. 
My experience as a software development company CEO might help you navigate the road ahead if you are facing such challenges. But first, here are some questions you need to ask yourself before deciding to scale up:
Does my company need to expand into new markets?
Are we financially stable? Financial health is an essential factor in its ability to scale up. This includes having sufficient capital to fund expansion, managing expenses effectively, and being able to secure financing if needed.
As we scale up, do we have a production and delivery capacity to support the growth and meet customer demands? Are our employees able to handle the current workload, or do we need to hire?
Do we need an external vendor to help with the product roadmap and delivery? Is it genuinely essential to hire new employees, or can we try nearshoring the team?
Keep in mind that during the scaling up, you will probably encounter a new set of challenges like revision and streamlining of internal processes, upgraded product roadmap, new market opening, or even a need to invest in a new vertical. 
Steps To Help You When Scaling The Company
The process might get overwhelming, but from my experience, it is crucial to stay focused on the following three points: 
Set reasonable expectations and be realistic
Scaling up is certainly exciting! You are planning a lot and have much hope, so it's easy to get caught up in stratospheric growth rates. However, due to rising expectations, it might happen that your team will not be able to keep up, or your product will start to encounter rising churn rates.

These are potentially costly mistakes, especially considering that 74% of startups fail due to premature scaling. But scaling too late also leads to missed opportunities. 

So be wise and patient - stay invested in scaling up and set realistic goals for yourself and your team. And try to avoid a culture of overwork – people must come to work feeling refreshed and energized to be most productive.


Invest in the right technologies
What technology is right for your business depends primarily on your industry and product. Your success is closely tied to your ability to grow fast. And to grow fast, you need to invest in the right technology to help you adjust to market needs as you scale up.

You are probably aware that you will need to do plenty of research to decide on that. However, you can also connect with an experienced partner who can make the right proposals based on their experience with various industries.


Work with the right professionals.
When scaling up, it's all about working with the right people. You want to work with experienced professionals with the right domain expertise and a strong work ethic who will help you reach your goals more efficiently.
Instead of hiring additional employees who will need time to get trained on specific skills unique to your company - focus on what matters the most – your core product and service. Think about how you can face new challenges faster and more efficiently.

For example, invest in employees you already have and hire internally when necessary; when scaling up, you need to go through a strenuous process where you hire additional engineers. Next is the onboarding process and polishing their skills to suit your internal needs. Imagine how much time and financial resources you've invested, and your new people are still "on the bench".

On the other hand, you can consider using a  nearshore software development partner with expertise in your industry - a practical plug & play approach. There are plenty of nearshoring benefits, but in this specific case - your outsourced team can help your in-house team meet the deadlines, and the outsourced team offers you flexibility – you can offload more or less work to them depending on your roadmap.

This way, you have assembled a strong development team, but at the same time, your in-house team is not overworked, and their churn is minimized while productivity is at the top level. Additionally, this approach is also cost-effective. 
For example, we helped the team behind the Digital health app Doctor Care Anywhere scale from 18 to 60.000 video consultations a month. The team wanted to grow their business but needed expert support with legacy software. We assembled 25 experts with domain knowledge who worked like an extension of the app's in-house team. We accelerated the client's growth to new frontiers within a short period. If you are interested, you can read how we did it in this case study.