Business Insights
Case Study: DEPT®
Nevena Nikolic
Categories: Case Studies, Business Insights
Date 17-May-2023
4 minutes to read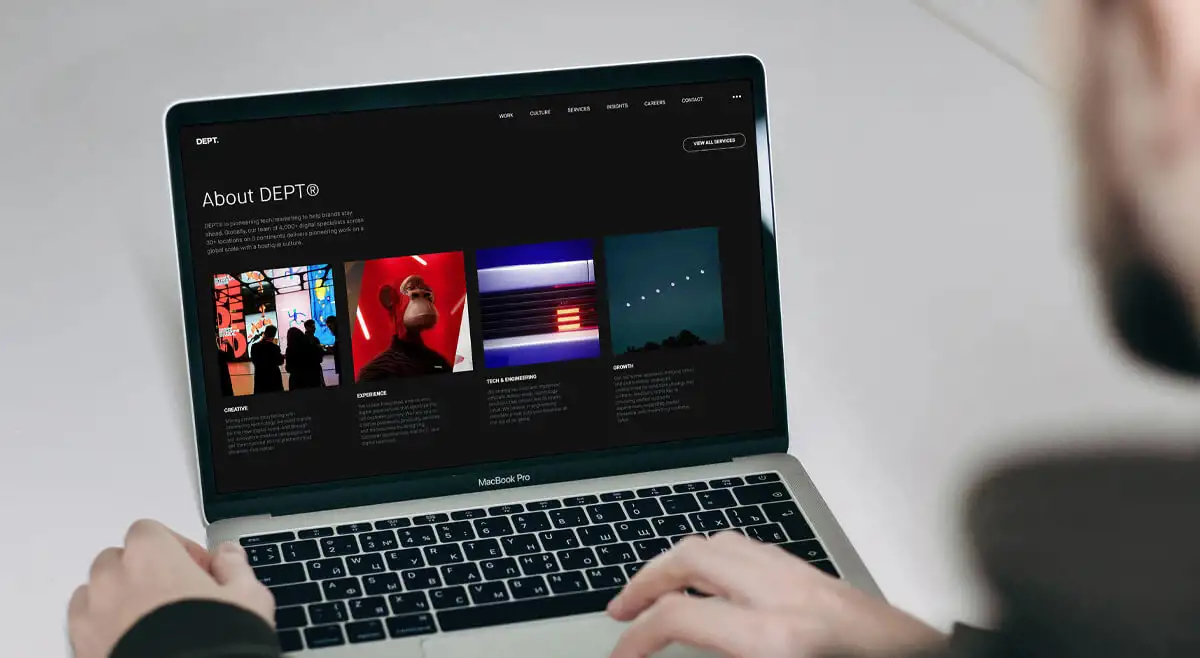 DEPT® and Vega IT: 15 Years of Partnership and Growth
When Vega IT was founded back in 2008, digital agency DEPT® was our first client. From day one, we knew we wanted to have close partnerships with our clients. But, little did we know that was the beginning of our longest and one of the most fruitful collaborations ever. 
From TamTam to DEPT®
Before DEPT®, there was TamTam. And, the story goes like this.
TamTam was a full-service digital agency from Netherlands, launched by two brothers - Paul and Bart Manuel. Founded in 1996, the agency soon set out to become a leading agency in the country. 
A decade later, in 2016, TamTam merged with several leading digital agencies across the globe. That is how Dept® was born. Boasting over 4,000 professionals, the agency established itself as a global brand, providing clients with a broader range of solutions and expertise. Their novel, one-stop-shop agency concept is what sets them apart. And, combining creativity, technology, and data is exactly what they do. 
Unsurprisingly, they needed a strong and reliable tech partner in the process. Enter Vega IT.
Reaching the stars, together
As a growing digital agency with over a decade of active experience in the industry, TamTam already had a growing team of developers. What they needed was an extension of their in-house team. IT professionals who would co-create innovative digital solutions for them and their clients. A team of professionals that would deliver technical expertise, domain experience, and relentless passion to every aspect of the project. 
The success of the partnership between Vega IT and DEPT® agency is best reflected in our long-term collaboration. Over these 15 years, Vega IT has focused on keeping pace with DEPT®'s evolution. We are honored to have successfully adapted to their needs at every moment on their journey toward becoming a global industry leader.
The right people for the right job
The greatest value we delivered was reflected in our enviable domain experience. We worked on a number of projects for the agency's clients across various industries. Telecommunication. FinTech. InsureTech. Retail. You name it. 
We worked closely with DEPT® to understand their clients' needs. We have integrated into their different teams, to deliver solutions that meet their goals.
Tech expertise, when needed the most
DEPT® and Vega IT proved to be a match made in heaven. We are the firepower they get when they need it the most. 
We provided front-end and back-end development services, ensuring that each project was delivered with the highest level of quality and expertise. The team implemented different technologies and applied our cross-sector experience to cater to the client's requirements. Our commitment to excellence allowed us to become a trusted tech partner in their journey toward success.
Company values that match
Looking back, we can see that the secret to our long-standing collaboration has been our shared values, mission, and goals. 
Trustworthiness. Teamwork. Responsibility. Quality. Fulfillment. Both DEPT® and Vega IT live and breathe these values. That is exactly what drives success and helps us stand out as industry leaders.
Two companies. One team.
Countless projects behind us. Over 50 Vega IT's experts working tirelessly to support DEPT®'s growth. We provided them with extensive engineering expertise and enviable domain knowledge.
Given that, we can say that Vega IT and DEPT® are more than tech partners. The members of the Vega IT team are treated as if they were part of DEPT®'s in-house team. They are even affectionately referred to as Depters and are frequently invited to join in on celebrations and team-building events.
It's only the beginning of the DEPT® and Vega IT partnership
Such a fruitful partnership contributed a lot to both our and DEPT®'s growth. We matured together, evolving into global companies focused on trust, dedication, and responsibility. As our partnership continues to grow, we are excited to see what the future holds and how we can continue to support each other's growth and success.