Business Insights
Case Study: Companion App
Vladan Ostojic
Categories: Business Insights
Date 11-Sep-2018
Helping mental health app, Companion, provide a better experience to more people
Companion is a mental health and well-being app based on Cognitive Behavioural Therapy principles in the workplace.The app provides users with information on how to manage stress and anxiety. We joined Companion as a software development partner to help the app increase its audience and improve its functionality.

The challenge: launching on Android and improving UI & UX
Companion's iOS app was like a proof of concept – once it had gained traction on the App Store, the team behind it decided to launch for Android too, as well as adding a host of new features. Companion came to us with two goals: reach more people, and give them a better experience in the app. 
The team: 9 mobile development experts 
We deployed a team that could cater specifically to the needs of the client and project. We had a number of iOS and Android engineers on the team, and ensured they all had an understanding of the HealthTech industry and its tight regulations.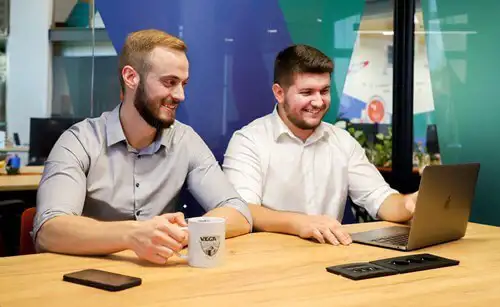 Data Science Services
We are offering leading end-to-end data solutions that will help you make the best business decisions, improve user experience, and turn your big vision into reality. Your dreams. Our expertise. Together, we give you the strength to succeed.
Let's go
The result: compact application, mighty advancements 
We built a versatile app for Companion, packed full of new and improved functionality on iOS and Android. And we built it in ReactNative, with an Umbraco CMS - making it effortless to updated content, regardless of device (iOS, Android, mobile, tablet - the lot). 
After launching the refreshed apps, Companion recorded increased satisfaction and notable growth in both downloads and subscriptions of the platform. Since our work together, Companion now has an average of 4k+ users a month; 31k+ registered in total.
Some ways we got those results:
Two platforms. One code.
We used React Native to develop the two mobile apps using just one code. This significantly reduced the costs of the project while simultaneously simplifying the overall process.
Easy to use, easy to update
By using Umbraco, we've now made it possible for Companion to effortlessly change content regardless of device. This saves the team a whole lot of time, money and hassle. 
A fresh look and feel
For both iOS and Android we refreshed the UI and UX with a more intuitive design. And we elevated the in-app experience by improving essential features within the app, from push notifications to annual subscriptions, content categorization to breathing exercises and everything in between.
The tech we used:
Objective C on iOS
Java on Android
React Native
Umbraco