Life At Vega IT
The Colleague of the Month of March 2021: Lidija Šegrt
Tijana Popov
Categories: Internal, workers, worker success
Date 14-Apr-2021
3 minutes to read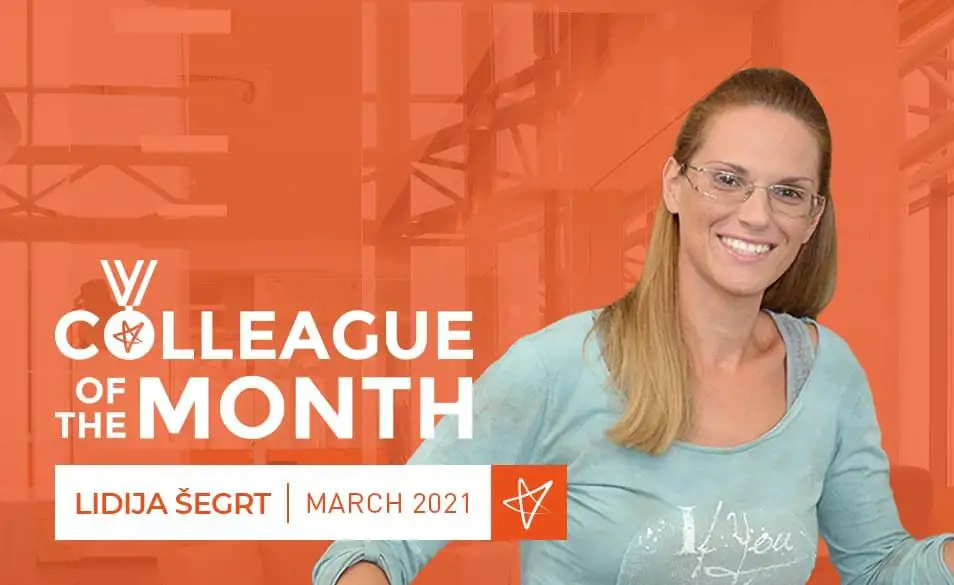 It's that time of the month when we announce our colleague of the month.
In March, one of our colleagues sent an anonymous nomination explaining the reason why a certain someone should receive this special recognition.
We voted and the results are in!
Our colleague of the month of March is our Office Administrator Lidija Šegrt!

Our colleague of the month of March 2021 is Lidija Šegrt
Check out just one of the reasons why we believe Lidija received this title:
"Lidija is a person who makes my work easier and better every day, and I would like to take this opportunity to thank her for being such a great colleague. Every time I asked her to get something for the company, she would spend more time at work just to get things done on time and to the best interest of the company.
She is always ready to help and she does everything with a smile on her face which makes my day even better.
Each time Lidija offers to help in the best way she can, even when it comes to my personal things, which saves much of my time so that I can focus on some other things at work.
Thank you, Liki, for trying hard and helping us every day. For me, you are, definitely, the Colleague Of The Month! :)"
Get to Know Lidija
Those who know Lidija would say that there's no impossible challenge for her!
She's always a few steps ahead making sure we are always "well-equipped" during our working hours. To be honest, we can count on her support even outside of work.
Here's just one of the situations that truly describes our Lidija:
Last year, at the peak of the pandemics, after being stuck abroad for 20 days, our colleague returned to Serbia and had to go to mandatory isolation. Immediately, Lidija organised a delivery of all the necessary supplies to a different city, just so that our colleague can have bare essentials with him during his isolation.
Lidija, thank you for always going above and beyond for all of us in the company!
Who will be our next colleague of the month? Stay tuned and find out. ;-)