Business Insights
Tech layoffs and hiring freeze in 2022: Ideas to consider to manage your company in this kind of environment
Sasa Popovic
Categories: Business Insights
Date 16-Aug-2022
6 minutes to read
It seems like every decade or so, we are facing a perfect storm of economic conditions that leave companies across industries bleeding and, ultimately – closing. Over 53,600 workers from more than 360 tech startups globally were laid off in 2022 - this might be the most significant number of lost jobs in the IT sector since the COVID-19 pandemic. Layoffs range from small ones - a dozen employees or so, to mass layoffs that end up on the cover page of business websites or on LinkedIn profiles where former employees are looking for new opportunities.
Like everyone, you probably wonder why IT companies, especially those with high valuations - which should be the most propulsive and recession-resistant - lay off employees?
Are the layoffs at tech companies a common issue, or is it something that has accelerated just recently? 
In this article, we will address these questions and examine the options you have on the table if you are facing the pressure to reduce your company's number of employees.
For a long time, tech companies have showered their employees with exuberant salaries and unbelievable benefits to attract and retain talent in one of the most competitive industries – IT. Hyper-competitive companies often hired more people than they needed just to keep up with the Joneses of the startup world.
However, after the pandemic-fueled 2020 and 2021, which were one of the most optimistic years we've witnessed in the IT industry, the situation started to cool down rapidly as the broader economy was hit by the perfect storm - a combination of high inflation, a possible recession, and war in Ukraine. And the tech sector is one of the first ones to take the blow. This happened because the valuation of the growth companies is reduced as the present value of future earnings is lower due to inflation and the possible recession lowered the earning projections creating the double whammy.
The memory of the dot-com bubble as well as the recession of 2008 is still fresh. Tech companies have rapidly kicked into a lower gear — they started to cut costs and save the capital from the investment rounds to prepare for the "Winter is coming" scenario. Across the board, hiring has slowed down for specific mid-level and senior-level roles. However, the recruiting is constant for the entry-level engineers, which might indicate that companies want to pull back on the hefty salaries in the hope that they can educate talent internally and put them on a fast track.
Besides the perfect storm, what are other reasons tech companies are cutting the workforce?
Stronger pressure from investors
When market circumstances change - as they rapidly evolve in the face of a recession - investors want to see startups taking the initiative and adapting to lower valuation and financing availability even though they still might be full of cash from recent investment rounds. By enacting a quick layoff move, companies are reassuring their investors and signaling that they have "a hand on the pulse" and can adapt to the changing market circumstances. Besides layoffs, some companies also focus on reducing the salaries and benefits of people who remain in the company. In this way, they show they are not passive and are focused on continually re-examining internal structure and where they invest "the burn."


Excess monthly costs and "burn"
In recent years, many tech companies have grown from a dozen of employees to hundreds, and this inflated hiring often wasn't the result of the genuine immediate need for workers but the battle with other companies competing for the same talent. So, to "get there first," startups filled their departments with positions of assistants and consultants, which probably weren't needed in the first place. To "trim the excess fat", those positions were the first ones on the shooting list, while essential people remained with the companies. In this way, the initial startup capabilities remain intact and can ensure growth in years to come. Such firing decisions are purely strategic, and these types of companies still have a demand for quality engineers. It is important to remember that companies that cut costs in such a way will probably have difficulty recruiting anew in the future.


Changing market circumstances
In the pre-2022 era, many tech companies relied specifically on investors' money, hoping that, over the years, they would beat the competitors and ultimately win the market by accumulating a massive amount of customers. With such an approach, companies were willing to lose money on customers while eyeing profit in the long run. However, with the economic downturn on the horizon, companies needed to act quickly - cut costs and preserve cash to get through an uncertain period. With giant companies like Oracle realizing that the future years might be challenging, burning more money than necessary is off the table, and the name of the game becomes – producing cash and focusing on opportunities that bring profit.
But tech companies still need IT engineers to run their product development. What are they doing then?
Yes, IT people are still the most sought after despite the layoffs and hiring freezes. Many global companies also have development centers and innovation hubs across the globe - some companies are rethinking the need for them while also discussing how to address the need for experienced IT personnel while staying within the affordability range.
If your company is facing pressure from investors, high monthly operational costs, or changing market circumstances that deeply affect it, let's examine what you can do about it.Even though consumers are pessimistic and are cutting down on non-essential costs, you have to remember two things - first, we are still not in a recession, and you have a business to run.
Develop an appropriate cost structure for your business
For the rest of 2022 and probably 2023 as well - it's prudent to control costs. However, it would be best if you remained focused on preserving your company's growth and profitability - and, overall, making a clear market impact in the foreseeable future. This doesn't have to come at all costs. Develop a clear structure of all your costs (regardless of their source!) and focus on recession-proofing your business. Use the economic crisis to make your business more efficient to be in an even better position when the tide shifts.


Near-shore your IT talent
As you review your spending plans, keep in mind that it is still vital to have experienced engineers on your team despite the situation you might be facing. Consider nearshoring if you need to slow down your hiring but require experienced IT professionals. Besides the obvious benefits like working in the same time zone and a good cultural fit, nearshoring offers tremendous opportunities that will significantly impact how you do business - and in an entirely positive way! The perfect storm we might be witnessing comes as a shock, but that shock might also be an opportunity for organizations to reach out to future partners who can provide a safety net and help them with nearshore talent.

With nearshoring, you will increase your business resilience while reducing overhead costs. Also, nearshoring will help you enhance your internal team's skills and access a larger talent pool. Indeed, there are irreplaceable people in your company, but your product development team will occasionally require a particular set of skills that don't need full-time employment - with nearshoring, you can maintain cost-effectiveness and improve product quality. Nearshoring will significantly increase your ROI. However, you need to partner with a company that offers the competencies you are looking for and with whom you can work long-term.


Ultimately, keep your eyes on the prize
The recession doesn't last forever, and historical experiences show that businesses which survived the recession are far more resilient and equipped for long-term market success than the ones that haven't. So, regularly re-evaluate your talent and business operations to structure the company to your realistic goals and market demands. Share experiences with your business circle, and don't succumb to market frenzy. Surround yourself with reliable partners who can help you navigate the shallow waters and focus on the long-term impact you will be making.
One of such reliable nearshore partners could be a software and product development company Vega IT. We built our business model during the 2008 recession, so we completely understand the things you're going through.  Our comprehensive experience gathered over the years allows us to be a reliable partner to our clients and provide them with all the technical expertise and domain knowledge they need.
Besides offering unparalleled service, we are proud to provide you with a flexible and no commitments approach – you control the team composition and allocation and can scale the team according to your needs – when you need to grow faster, just add more engineers to your core team. And when you need to take a break - you can easily downsize without any hassle.
Sounds too good to be true? In the last 15 years, our highly trained engineers have successfully delivered over 1.000 projects in Europe, the UK, UAE, and UA, and our 750+ engineers have experience in FinTech, PharmaTech, HealthTech, and transportation & logistics, FoodTech, enterprise blockchain, and others. We have more cards up our sleeve, so continue reading.

Over the years, we have sourced only the highest quality talent. Today, we employ Software Architects and Engineers, Product Owners, Business Analysts, Project Managers/Scrum Masters, DevOps and QA Engineers, and Data Scientists whose passion for work, innovative thinking, and deep domain expertise help our clients achieve exceptional business outcomes. You can read about our and our clients' success stories in our blogs.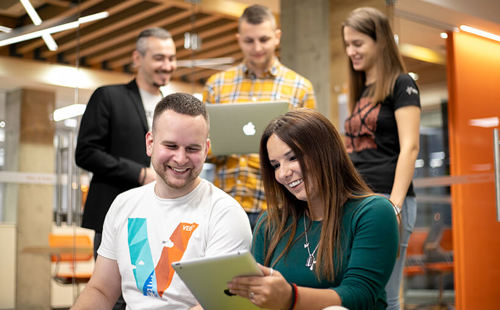 We completely understand that there is no "one-size-fits-all" solution for software development, or business in general. This is why we'll first want to learn more about your project or commitments you need to make, and afterward, we'll select the right people who are a perfect fit for the challenges you need to solve. So, yes, the perfect storm might be on the horizon, but so is a potentially ideal solution.